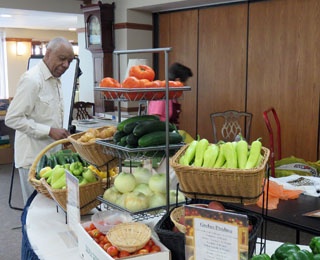 Local farmers' markets have been providing fresh, seasonal, and locally produced foods for generations. However, in recent years, there has been a growing number of local markets throughout the United States. An increasingly health-conscious nation is beginning to show interest in local and wholesome nutrition. This farm-to-table movement is proving to make stronger communities, grow the economy, and build a healthier population.
---
What do local farmers' markets have to do with Kendal at Oberlin? Find out here.
---
Locally-Grown Foods Are Fresher and Healthier
Consumers are truly getting the cream of the crop when they buy local produce from farmers' markets. With every season, there is a variety of fresh foods with diverse nutrients, easily accessed throughout communities.
Recent studies from The Farmers Market Coalition show that the growth of farmers' markets throughout the United States, especially in low income areas, has increased fruit and vegetable consumption significantly. Our farmers' markets are proving to build a healthier and more resourceful nation.
But, not only do these markets provide plentiful variety, but high quality as well. One of the main benefits of farmers' markets is that there is no shipping or holding time for fruits, vegetables, and meat, leaving the need for not-so-healthy preservation out of the picture.
Large-production produce and meat must be preserved and frozen if it is to stay "fresh" on its long journey. This significantly decreases the nutrient content by the time it reaches your table. Buying locally-grown and -raised produce and meat ensures you are choosing the most wholesome and fresh food available. Three out of four farmers' markets in the United States are certified organic productions. No pesticides, no GMOs, no antibiotics, but simply fresh and right around the corner.
Know Your Farmer, Know Your Food
In choosing to buy from local, family-owned markets, you hold the key to any questions you may have about the quality of your food—how it was raised or grown, where it came from, how fresh it is, etc. If you know your farmer, you know your food.
With this comes strong communities and relationships between consumers and farmers. The Farmers Market Coalition firmly believes that these markets are "reconnecting communities with the food system". These markets provide an atmosphere for healthy interaction with a blossoming interest in wholesome nutrition, and as The New York Times states, an educational experience in the importance of knowing how our food is raised and grown.
Local Markets Help the Economy
The growth that farmers' markets bring within communities also accounts for a growth in the economy. For starters, market businesses are providing jobs to people throughout small cities and towns. The Farmers Market Coalition finds that for every $1 million dollars made in revenue, local selling markets create 13 full-time job positions, compared to the 3 full-time jobs per $1 million in revenue created by markets not selling their produce locally. Local farmers' market businesses are helping to revive towns and cities all over the United States and allowing them to flourish financially.
On a wider scale, The Farmers Market Coalition shows that "the local and regional produce you'll find at farmers' markets travels about twenty-seven times less distance than 'conventionally-sourced' produce." Overall, growth in our local farmers' markets will provide cost-friendly and sustainable food for years to come.
So, the next time you decide to shop at your local farmers' market for your produce, remember that you are not only buying the most wholesome option, but building up your community.
Farmers' Markets Near Oberlin:
Here in our little area of Northeast Ohio there is an abundance of local farmers' markets to try out!
Oberlin Farmers Market
69-85 South Main St., Oberlin OH 44074
Hours: May-October, Saturdays 9 a.m.-1 p.m.
Grobes Fruit Farm
43875 Telegraph Rd., Elyria, OH 44035
Hours: Sun-Sat 9 a.m.-6 p.m.
McDowell Orchards
50603 Telegraph Rd., Amherst, OH 44001
Hours: Mon-Sat 10 a.m.-10 p.m.
Vermilion Market
2901 Liberty Ave., Vermilion, OH 44089
Hours: Sun-Sat 8 a.m.-7 p.m.
Wellington Farm Market
Howk Memorial Park; 115 Willard Memorial Square, Wellington OH 44090
Hours: June-October, Fridays 5 p.m.-7 p.m.
Penton's Farm Market
44905 N Ridge Rd., Amherst, Ohio, OH 44001
Hours: Mon-Sat 10 a.m.-6 p.m.
Find other nearby farmers' markets here.
Kendal at Oberlin Supports Farmers' Markets
Sustainability and health are important to us at Kendal at Oberlin. It's the reason we use locally-sourced food. It's the reason we provide information about health issues of concern to residents. We offer resources, equipment and training to encourage residents to maintain a healthy lifestyle. To learn more about how Kendal at Oberlin supports the active lifestyles of residents, call 800-548-9469 or 440-775-0094 or contact us online.
Rylee Weaton is a sophomore Dietetics student at Bowling Green State University, interning at Kendal at Oberlin with dietitian Sue Campbell.