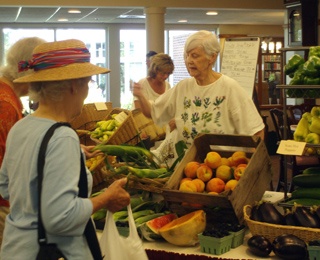 Years ago, families had to travel to rural America if they wanted to buy fresh, locally grown fruits, vegetables, flowers, honey and the like. Often a market sold only one crop, like sweet corn or tomatoes, and markets were scarce, numbering just around 100 in 1960.
Today, you can find a farmers' market just about anywhere, from downtowns large and small to suburban centers and church parking lots, with selections that rival many grocery stores. Many markets are year-round, even sprouting up in snow belt regions like northern Ohio.
The U.S. Department of Agriculture's latest survey a year ago shows a growing and robust farmers' market movement.
"There are over 8,400 farmers' markets in USDA's National Farmers' Market Directory, and this survey shows that they are thriving and expanding as they provide healthy, local fresh fruit and vegetables to America's families," said Anne Alonzo, administrator of the Agricultural Marketing Service.
Benefits of Shopping at a Farmers' Market
Bite into an apple just days off the tree or corn picked that morning. You are tasting fresh food, and fresh tastes great. Once your taste buds experience the real thing, eating food that's spent weeks being shipped and stored is a disappointment to the senses.
Shopping at a farmers' market means you are supporting small family farms, many which are your neighbors. Your dollars help their business grow and bolsters the local economy.
The environment wins too, according to the Center for Urban Education about Sustainable Agriculture (CUESA):
"Food in the U.S. travels an average of 1,500 miles to get to your plate. All this shipping uses large amounts of natural resources (especially fossil fuels), contributes to pollution, and creates trash with extra packaging.
Conventional agriculture also uses many more resources than sustainable agriculture and pollutes water, land, and air with toxic agricultural by-products. Food at the farmers' market is transported shorter distances and is generally grown using methods that minimize the impact on the earth."
CUESA lists other benefits, including an opportunity to sample a variety of vegetables and other items, such as watermelon radishes and quail eggs, often not available in a supermarket.
Spending an afternoon stopping by vendor stands is also a great way for you to connect or reconnect with your community. If you've been to a market lately, you know what a hub they have become, with intergenerational activities, artist showcases and a relaxed atmosphere, often with live music and other entertainment.
Spice up Your Meals
Farmers' market vendors often offer cooking demonstrations, food samples and recipes. This is a great opportunity to break out of same old routine home cooking. You can add new foods into your diet, and find new ways to cook abundant, locally grown crops.
In Ohio, zucchini is one of those crops. Kendal at Oberlin dietitian Sue Campbell found a tasty recipe for zucchini that residents applaud. The Mediterranean Zucchini Bake includes spinach, and a mixture of lamb, veal and beef.
Growing apples is also popular in the Buckeye State, where agriculture is the number one industry. Along with listing a directory of Ohio farmers' markets, the Ohio Proud website also lists recipes for many of the products grown in Ohio. The Apple Blue Cheese Mac and Cheese recipe calls for four Ohio products – apples, eggs, butter and heavy cream.
The CUESA, based in San Francisco, also provides recipes for consumers, and given California cuisine, the dishes are eclectic. Sauteed Swiss Chard with Dried Cherries, Roasted Beets, Fromage Blanc, Grapefruit and Pistachio and Chestnut Orecchiette with Pork Sausage, Broccoli di Cicco and White Bean are just a few listed on its website.
What is your favorite recipe using a product grown where you live? Let us know so we can share with our readers, and maybe add to the Kendal dining services lineup.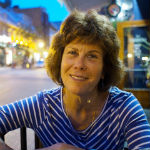 In the past, Molly Kavanaugh frequently wrote about Kendal at Oberlin for the Cleveland Plain Dealer, where she was a reporter for 16 years. Now we are happy to have her writing for the Kendal at Oberlin Community.