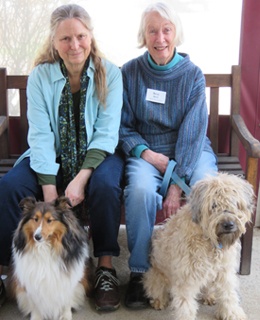 The Stephens Care Center hallways and living spaces are full of smiling people as Kendal residents Elizabeth Hole and Betsy David make their twice-weekly rounds with their dogs Spirit and Tibby, respectively.

"They know exactly what to do when they come in here," says an amused resident, pulling out a plastic container of treats she stores under a dresser.

In another suite, Spirit jumps up on the bed to be petted by a resident just waking up. "I'm glad you came in," he tells the foursome.

Remarks Elizabeth, "Some of the residents just look so happy. It seems to make a big difference."

Laughter, smiles and a spirit lifter – that's the job of Spirit and Tibby and they, along with other pets in the care center, do it so well.
Rx: Paws for Patients
The use of pets in medical settings dates back more than 150 years, according to National Public Radio.
"One could even look at Florence Nightingale recognizing that animals provided a level of social support in the institutional care of the mentally ill," says Aubrey Fine, a clinical psychologist and professor at California State Polytechnic University who has written several books on the human-animal bond.
But it was not until the 1970s that researchers started to uncover the scientific connection between animals and their impact on human health.
"One of the first studies, published in 1980, found heart attack patients who owned pets lived longer than those who didn't," according to NPR.
Loyola University researchers found that just five to fifteen minutes of animal therapy each day was associated with a 28 percent drop in the need for oral pain medication among patients recovering from joint-replacement surgery.
A 2013 study from the American Heart Association found that the calming effect of petting a dog can help lower a person's blood pressure.
Additional studies being done in hospitals and nursing homes have shown a relation between pet interaction and improved mood and reduced anxiety. And in other instances, visits from therapy dogs positively impact the psyche of patients recovering from a devastating illness or medical event.
"Some dogs are trained to understand a range of commands," WebMD states, "which lets them help people with aphasia (a language disorder common in older adults, particularly those who've had a stroke) feel good when they see the dog understands them."
Health Benefits of Cats and Dogs
Pet visits can reduce anxiety and stress for people of all ages, from children undergoing a dental procedure, veterans suffering from post-traumatic stress disorder and older adults living in a skilled nursing center.
During any given week at Kendal at Oberlin, four dogs can be found greeting care center residents. Lizzie is a daily visitor, arriving every morning with her owner, Lynn Ensinger, director of clinical services.
"Residents show appreciation for Lizzie nearly everyday. Recently one resident told me, 'Lizzie is the best thing for the SCC residents, they really enjoy her!'" Lynn says.
Additionally, six house cats live inside the care center.
"What we're trying to do when we have animals that stay with us is support lifetime habits and relationships adults have with animals," says Michele Tarsitano-Amato, board certified registered art therapist, dementia specialist, and director of creative arts therapy at Kendal at Oberlin. "Animals are very important, even if they're just coming for visits."
She recalls one of her favorite examples of the powerful bond between a resident and her pet companion: "We had a lovely lady who transitioned through our community, and she had a cat she would walk around campus. When she needed assisted living, the cat moved with her to assisted living. When she needed skilled care, the cat moved with her to skilled care. We had high school student volunteers push her in a wheelchair, and the cat would walk with them around the grounds. The cat was able to be with her until her end."
In addition, pet visits can reduce stress for the staff working at the care center, hospice or hospital. At the Hospital of the University of Pennsylvania, many ER doctors and nurses spend their lunch hour with animals from the states Society for the Prevention of Cruelty to Animals.
"Healthcare is an incredibly stressful field from the medical intensive care to the emergency to the newborn nursery. It's stressful," says clinical nurse specialist Heather Matthew who helped launch the "Pet a Pooch" program.
Kendal pet owners Elizabeth Hole and Betsy David have also seen the positive lift their pooches give busy nurses, therapists, aides and others working in the care center.
"We didn't know it would also make the staff feel better," Betsy says.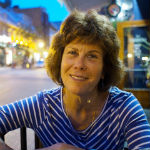 Molly Kavanaugh frequently wrote about Kendal at Oberlin for the Cleveland Plain Dealer, where she was a reporter for 16 years.