Heart disease is the No. 1 cause of death in the world and the leading cause of death in the United States, killing over 375,000 Americans a year.
Someone in the U.S. dies from heart disease about once every 90 seconds.
Heart disease is the No. 1 killer of women, taking more lives than all forms of cancer combined.
These statistics from the American Heart Association are scary, but the good news is they are not rigid. If Americans follow "Life's Simple 7" steps outlined by the Heart Association, deaths from cardiovascular diseases and strokes could be reduced by 20 percent by the year 2020.
Here are the top 4 ways to get and keep a healthy heart.
Avoid Smoking
Arsenic, lead, tar. That's just three of more than 7,000 chemicals in tobacco smoke; none of them are good for your health.
And the health risks are not just from smoking cigarettes. According to the American Lung Association:
Talk to your doctor about quitting. And take advantage of the Freedom From Smoking® resources offered at clinics and online through the Lung Association. "Quitting smoking is the single most important step a smoker can take to improve the length and quality of his or her life," the association states.
Stay Active
Physical activity keeps your body in shape, and your heart too.
The U.S. Department of Health and Human Services recommends that health adults get:
At least 150 minutes a week of moderate aerobic activity or 75 minutes a week of vigorous aerobic activity, or a combination of the two;
And strength training exercises at least twice a week.
Aerobic exercises include cardio machines, swimming, running and exercise classes such as spinning. Strength training can be gained by lifting weight, but that's not all.
"Please don't limit yourself to thinking that lifting weights, expensive machines, or a gym membership is the only way to do strength training," says Troy Tuttle, an exercise physiologist at the University of Texas Medical School in Houston. "Pushups, jump squats, lunges, and mountain climbing are all examples of exercises that provide strength training."
Mayo Clinic's Dr. Edward R. Laskowski recommends as a general rule that one should participate in 30 minutes of physical activity a day.
"Short on long chunks of time? Even brief bouts of activity offer benefits. For instance, if you can't fit in one 30-minute walk, try three 10-minute walks instead. What's most important is making regular physical activity part of your lifestyle," Dr. Laskowski writes.
Talk to your doctor before beginning an exercise program. And, remember, not only is activity good for your physical health, it's also good for your mental health.
Eat Right
First, figure out how many calories you should eat a day. This Calorie Counter will give you a number, based on your age, gender, height, weight and activity level.
Then follow the dietary guidelines from the American Heart Association that includes:
A variety of fresh, frozen and canned vegetables and fruits without high-calorie sauces or added salt and sugars. Replace high-calorie foods with fruits and vegetables;
Fiber-rich whole grains for most grain servings;
Poultry and fish without skin. You can prepare them in healthy ways without added saturated and trans fat. If you choose to eat meat, look for the leanest cuts available and prepare them in healthy and delicious ways.

A variety of fish at least twice a week, especially fish containing omega-3 fatty acids (for example, salmon, trout and herring);
Fat-free (skim) and low-fat (1%) dairy products;
Beverages and foods with fewer added sugars.
Foods with less sodium. Make sure you prepare these foods with little or no salt. To lower blood pressure, aim to eat no more than 2,400 milligrams of sodium per day. Reducing daily intake to 1,500 mg is desirable because it can lower blood pressure even further. If you can't meet these goals right now, even reducing sodium intake by 1,000 mg per day can benefit blood pressure.
Alcohol in moderation, which is no more than one drink per day for women and no more than two drinks per day for men.
Maintain Your Weight
Talk to your doctor, or check out this weight calculator, which gives a weight range based on gender, age, height and activity level. If your actual body weight falls within 10% (above or below) the recommended weight, you are within a healthy range.
To maintain your proper weight, make sure you are weighing yourself accurately. Some people weigh themselves every day, others once a week.
The 4 S's for weighing yourself, according to WebMD, is:
Same time of day, on the
Same day each week, wearing the
Same clothing, and using the
Same scale
The other 3 steps for a healthy heart, according to the Heart Association, is control of cholesterol, blood pressure and blood sugar. Take this test to see how well you are doing with "Life's Simple 7."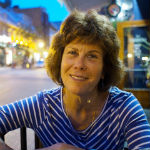 Molly Kavanaugh frequently wrote about Kendal at Oberlin for the Cleveland Plain Dealer, where she was a reporter for 16 years.