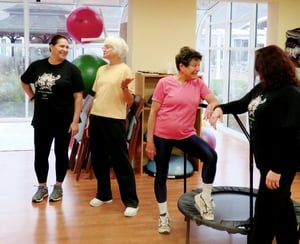 When it comes to keeping our heart in shape, we need to pay attention to what we eat and drink. But following a diet that includes more fruits and vegetables and less sodium and fats isn't the only ingredient for a healthy heart.
We also need exercise to get our body in shape.
"Understanding just how physical activity benefits your heart can be a strong motivation to get moving more," according to Johns Hopkins Medicine, which lists 7 heart benefits of exercise:
Lowers blood pressure;

Controls weight;

Strengthens muscles;

Can reduce the desire to smoke;

Stops or slows diabetes;

Lowers stress;

Reduces inflammation.
Exercise is a popular New Year's resolution (sound familiar?) and if you still need a nudge to make it happen in 2019 consider that February is American Heart Month. One of the best ways to get moving is to find physical activities that are easy, accessible and yes, even fun.
Take a Walk
Many of us might not consider walking as an exercise, but we like to walk our dog, take a walk in the woods or walk to town or the library. All those steps add up we now know, thanks to fitness trackers and smartphone apps.
Stepping it up, so to speak, can be a good move for your heart.
According to the American Heart Association, research has found that at least 150 minutes of brisk walking a week (or 22 minutes a day) can reduce your risk of serious diseases like heart disease, stroke and diabetes, as well as improve your blood pressure, blood sugar and blood cholesterol levels.
And talk about easy and accessible. To walk all you need are supportive shoes and comfortable clothes, and a path, indoors or out. Many Kendal at Oberlin residents enjoy walking the one-mile perimeter around the community or heading downtown to walk on the paved North Coast Inland Trail.
No dog? No worry. You can volunteer as a dog walker at the Friendship APL in Elyria to help keep you on track. You can also walk year-round at health center indoor tracks and shopping malls.
Wearing headphones listening to your favorite podcast is one way to beat the boredom. The Heart Association has another suggestion: "Try brisk intervals. For example, walk one block fast, two blocks slow and repeat several times. Over time you'll be able to add more fast intervals with shorter recovery periods. Walking hills or stairs is a great way to increase muscle tone and burn more calories."
You may also enjoy: Walk or Run for a Healthy Heart >>>
Head to the Dance Floor
A 10-year study of 48,000 men and women in the United Kingdom found some promising results from moderate-intensity dancing.
"The findings don't prove that dancing led to lower mortality, and long-time dancers may be healthier to begin with. Still, dancing may offer brief bouts of higher-intensity exercise, as well as stress-relieving social connections, say the authors, whose findings appeared in the June 2016 American Journal of Preventive Medicine," Harvard Medical School reports.
There are lots of different dance classes to consider, from tap and ballroom to Zumba and salsa. Classes are often offered at senior and arts centers, community colleges and, of course, dance studios.
At Kendal, many residents gather in the main auditorium every Sunday night for English Country Dancing.
The requirements are simple, explains Judy Cook. "No experience or partner is necessary, and no costume – most of us wear jeans," says Judy, who heads up the group with her husband, Dennis.
Sometimes the dancing is accompanied by live music from Kendal and Oberlin College musicians. English Country dancing music is elegant and melodic and adds to the flirtatious air as dancers look into each other's eyes.
"It is the most fun. You are remembering and learning, and executing patterns of movement. We go home humming the tunes," Judy says.
Kendal also offers tap dancing classes.
Get Wet and Stay Fit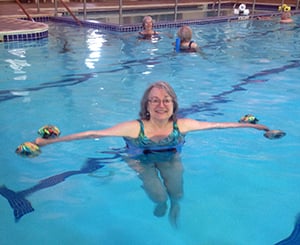 For many older adults, swimming is the perfect path to a healthy heart. The exercise is low-impact and puts minimal stress on joints while offering cardiovascular benefits.
"Swimming isn't about perfect strokes -- at least, not at first," says Jane Katz, professor of health and physical education at John Jay College of Criminal Justice at City University of New York, and author of Swimming for Total Fitness: A Progressive Aerobic Program. "New swimmers should just focus on getting into the water and moving."
Can't swim? You're not alone – more than a third of U.S. adults can't swim the length of a pool, which according to the Centers for Disease Control and Prevention puts them at a greater risk of drowning.
But thanks to initiatives like the one by U.S. Masters Swimming you can learn. USMS trains and educates swim instructors in the methods and techniques that work best for adult learners and offers courses around the country.
Stay Heart Healthy at Kendal
As mentioned in Kendal's Values and Practices: "The concept of wellness is a vital part of Kendal's ethos. We encourage wellness for all community members, all staff and their families and our boards. Our goal is for each individual to live as full and fulfilling a life as possible."
Kendal at Oberlin provides a Fitness Center that encourages a healthy lifestyle. There are a variety of wellness programs and fitness classes for all community members, staff and board members to use at their leisure.
Of course, eating healthy foods makes for a healthy heart as well. Dietary needs change as you age and a balanced diet is needed for optimal health. If you need some direction on foods you should be consuming, download our free guide, "Feed Your Body Right: Nutritional Needs After 50."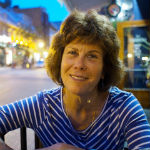 In the past, Molly Kavanaugh frequently wrote about Kendal at Oberlin for the Cleveland Plain Dealer, where she was a reporter for 16 years. Now we are happy to have her writing for the Kendal at Oberlin Community.