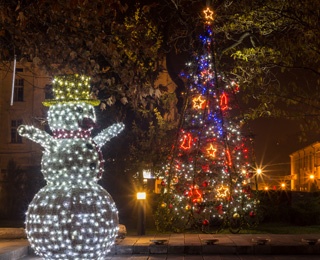 For young and old, many of our favorite holiday activities include music and lights, both indoors and out.
And for those of us who live in the Oberlin area, we have lots of activities to choose from.
The holidays are approaching and it's time to start making a list so your calendar includes some of these bright, musical holiday happenings.
Sounds of the Holidays
Oberlin Choristers will once again present its traditional concert, "Songs for the Seasons," which always closes with Night of Silence. The choristers are comprised of singers from kindergarten through high school,who live in northeast Ohio. The concert will be held Saturday, December 16th at 7:30 p.m. in Oberlin College's Finney Chapel.
Some of the Oberlin Choristers are also performing with the Lorain County Community College Collegiate Chorale (LCCC) at their Sunday, December 3rd concert. The 3 p.m. concert will be held at LCCC's Hoke Theatre, and tickets are $7 to $9.
LCCC also presents its annual "A Christmas Cabaret," which features singers Nancy Maier, Joe Monaghan, Bill Rudman and Sandra Simon, with songs that appeal to every generation.
The show is Friday, December 15th at 8 p.m. in the Cirigliano Studio Theatre. Tickets are $10 to $20.
---
Holiday stress? Here's how to prevent it.
---
The TrueNorth Chorale includes singers from school age to retirement age. Its annual holiday concert is Sunday, December 17th, at 7 p.m. at the Emerald Center, Marriott Residence Inn in Avon.
Singer-songwriter Olivia Millerschin is returning to Riverdog, 13818 Gore Orphanage Road, Wakeman for her second holiday show on December 15th. Seating is limited to 90 and reservations are required. Tickets are $15.
Celebrate the Holidays Outdoors
The Lorain County Metro Parks features two holiday activities:
Old Fashioned Holiday brings "pioneer holiday festivities to life through an engaging re-enactment in the Benjamin Bacon House" in the Vermilion River Reservation. Festivities, which include horse-drawn carriage rides and refreshments, are Saturday, December 2nd, from 3 p.m. to 8 p.m. and Sunday, December 3rd, from 2 p.m. to 6 p.m. Tickets for the 45-minute reenactment are free and available at the door.
Holiday Lights runs November 27th through December 30th (closed December 24th and 25th) at the Carlisle Visitor Center. Hours are 6 p.m. to 9 p.m. Sunday through Thursday and 6 p.m. to 10 p.m. Friday and Saturday. Visitors walk along a ½-mile paved loop trail decorated with a variety of holiday themes. Admission is free, but each visitor is asked to bring one non-perishable food item for Second Harvest Food Bank.
Get an up-close look at the winter sky using Oberlin College's binoculars and telescopes. The public viewing will be held Friday, Dec. 15th, from 7 p.m. to 9 p.m. at the Observatory and Taylor Planetarium in Peters Hall, 50 North Professor St.
Pile everyone into the car and view spectacular light displays at the Magic of Lights, located at Victory Park Ohio in North Ridgeville. The event runs from November 17th through January 1st, daily, dusk until 10:00 p.m. Visit the website for ticket information.
Holiday Spirits
Northeast Ohio is home to several wineries, and the holidays are a great time to gather with friends and enjoy live music and locally made wines and fare.
Holiday Shopping
Many of us look for gift shops and locally made items for holiday giving.
The Vermilion Arts Guild Holiday Show & Sale runs from November 4th through December 22nd. It features jewelry, pottery, woodworking, oils and other artwork from more than 40 local artists. The gallery is located at Main Street Vermilion, 685 Main St., Vermilion.
---
Looking for a gift that your loved ones will treasure forever?
---
Downtown Oberlin has lots of quaint shops featuring locally made and unique art, jewelry, pottery and the like. Many merchants will be offering holiday promotions, beginning with Shop Small Saturday on November 25th.
A Giving Opportunity
If one of your holiday traditions is giving to others, consider making a bequest or memorial gift or giving outright to help fund financial assistance for residents, capital improvements in the community, internships for students, and charitable reserves at Kendal at Oberlin. Learn more by contacting CEO Barbara Thomas, or Beverly Grove, The Kendal Corporation's director for philanthropy.
Kendal at Oberlin offers plenty of holiday activities...well, to be truthful, we offer plenty of activities throughout the year. In addition to supporting numerous resident committees which plan lectures, entertainment, trips, classes and more, we decorate and present events focused on the various seasonal holidays of our diverse residents. Schedule a tour during the holiday season to enjoy the warm glow – of residents and decorations!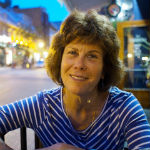 In the past, Molly Kavanaugh frequently wrote about Kendal at Oberlin for the Cleveland Plain Dealer, where she was a reporter for 16 years. Now we are happy to have her writing for the Kendal at Oberlin Community.