Published: April 9, 2021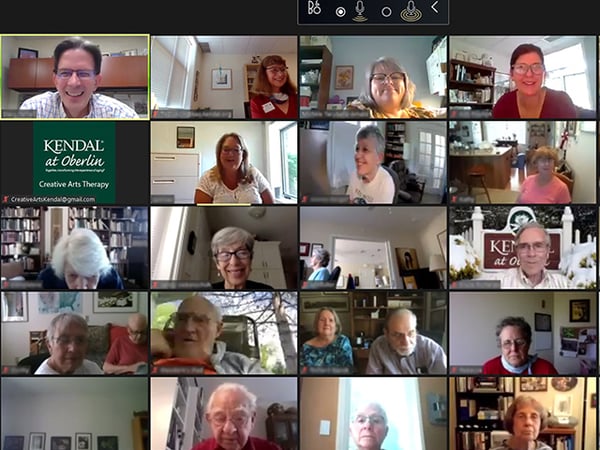 Kendal at Oberlin has a rich tradition of utilizing its main auditorium to the max. Professors and musicians from Oberlin College lectured or performed in Heiser Auditorium. Ditto for Kendal residents, many who are former professors and musicians. Community residents showed up to talk about transportation, health concerns, art outreach and other civic initiatives. Residents gathered to dance, swap music or watch a movie.
Needless to say, the Heiser auditorium was a happening place – and still is, thanks to Zoom, Kendal's new KOTV channel and residents who stepped up to learn and operate all the technological pieces needed to offer virtual programming.
"Over a year of trial and error, we learned to use these tools to bring movies every week and over 80 programs to the Kendal community," says Shirley Taylor, Program Committee chair, adding "I'm very proud of what we have done."
Kendal is a Resident-led Community
Kendal has never had an activities director because of how the Quaker-based community was formed nearly 28 years ago. The programs and activities are resident-led, which means residents have a strong voice in all aspects of community life — social, cultural and intellectual.
All residents are members of the Kendal at Oberlin Residents Association (KORA) and are encouraged to participate in the governance of the residents' association and its many activities and special purpose groups. KORA serves as the umbrella for more than 100 committees, sub-committees and interest groups.
Kendal's Program Committee has always played a key role because Heiser meeting rooms are popular venues, but the committee took on even greater importance last spring when Kendal's "hard closure" forced residents to shelter in place.
"It's become a job. I spend about 20 to 25 hours a week," says Shirley, who has a committee of about 10 residents who help with programming too.
While everyone misses in-person programming, virtual has some benefits, Shirley says. Since speakers and presenters no longer have to come to Kendal, the sky is the limit for programming, so to speak. From politics and civil rights, to art and poetry, topics are widely varied. For instance, a resident's son-in-law who is on John Kerry's climate policy team spoke to residents about climate change. More out-of-town speakers with resident connections are scheduled. A program about the late Justice Ruth Bader Ginsburg was presented by a Kendal resident who clerked with her.
Kendal residents used to fill the auditorium to watch Kendal's Play Readers, but if you were seated in the back, you likely missed facial expressions and other movements. Not so with Zoom.
And no worry about missing a performance. The Program Committee has created a DVD library so residents can watch programs at their leisure.
Spring Fling is Coming
Last year the popular annual event that celebrates warmer days with music, dance and elaborate decorations was postponed, then canceled. This year's Spring Fling will air May 1 on KOTV. Entitled "The Call of the World," its theme is resident travels.
"In total, we have about a dozen Travel Tales and a dozen Musical Offerings - including a Speaking Choir quartet speaking a fugue of hard-to-pronounce places around the world. Dining Services is providing a snack bag to enjoy while we watch on our TVs at home -- but now we can have 6 friends together in a residence, so the evening can be enjoyed in small groups," says Carol Harvey, one of the organizers.
In years past, the Program Committee took the summer off because many events were on hiatus. This summer the committee needs a break so virtual programming will be limited, but the planning continues.
"As COVID restrictions are loosened, we are beginning to think about future programming. Zoom will live in our toolkit because we are able to bring speakers from afar. KOTV allows residents to enjoy programs from their home. How will these tools be combined with the lights and speakers and screens in the Heiser Auditorium and the possibility of an audience? We don't know, but we are confident that we will be able to continue the rich programs that are part of the Kendal at Oberlin tradition," Shirley says.
Helpful Guide: Recommendations for Choosing a Retirement Community
---
These 15 tips will help you find the community that is right for you!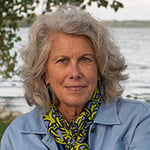 In the past, Molly Kavanaugh frequently wrote about Kendal at Oberlin for the Cleveland Plain Dealer, where she was a reporter for 16 years. Now we are happy to have her writing for the Kendal at Oberlin Community.
About Kendal at Oberlin: Kendal is a nonprofit life plan community serving older adults in northeast Ohio. Located about one mile from Oberlin College and Conservatory, and about a 40 minute drive from downtown Cleveland, Kendal offers a vibrant resident-led lifestyle with access to music, art and lifelong learning.