Published: August 28, 2018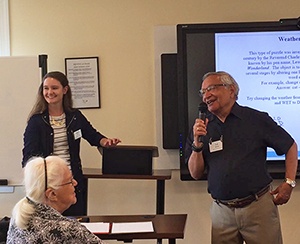 More than 25 years ago, future residents of Kendal at Oberlin planted the seeds for how the retirement community would operate. The community would be based on Quaker values and practices, and residents would have a strong voice in all aspects of community life — social, cultural, intellectual and governance.
Today, the term often used to describe that quality is "resident-driven," and it remains a cornerstone of Kendal.
Kendal at Oberlin: A Resident-Driven Retirement Community
What's the benefit of a resident-driven community? Just listen to what residents recently told Ann Francis, president of Kendal at Oberlin Residents Association (KORA), when asked to describe the Kendal values they most cherish.
I like it because I can be an individual here. I have a choice. I can do what I want and can do.

There is a spirit of sharing and taking responsibility.

This is a community that tries to get along, fiercely independent, not afraid to question and ask questions.

I appreciate the transparency and accessibility of administration.

Working together residents and staff solve problems.

Residents contribute to the life of the community in many ways and do a lot of the work.

I can and expect to have a say in the things that affect my life.

I can expect to be treated with dignity and respect.
Resident involvement and participation in matters both large and small is as timely as ever, as baby boomers enter retirement age and look for living arrangements that will give them opportunities to continue to grow and make a difference.
In a recent survey of more than 200 people actively searching for a life plan community, Brad Breeding, president of myLifeSite™, found that one of the top three things prospective residents are looking for in a community is "residents having a voice in management decisions." (The other two are lifelong learning opportunities and flexible transportation services.)
A resident-driven community is one where residents create and organize their own opportunities for a variety of activities and interests. They are involved in governance. Channels for communication are open and there is transparency from staff and the board of directors.
At Oberlin, the Voice of Residents Starts with KORA
All residents are members of KORA, which meets monthly, and are eligible and encouraged to participate in the governance of the residents' association and in its many activities and special purpose groups.
KORA serves as the umbrella for more than 100 committees, sub-committees and interest groups. Kendal at Oberlin also has dozens of informal groups, such as one where residents discuss articles (and cartoons) in The New Yorker, that come and go depending on resident interest.
No need for an Activities Director at Kendal. "I hear a lot from residents that they really appreciate planning their own activities and having a voice," Ann Francis says.
In the last few months, three new groups have been formed at Kendal:
LGBTA+ (

Lesbian Gay Bisexual Transgender Allies Plus Interest Group

), an awareness, advocacy and support group for lesbian, gay, bisexual, transgender and other gender non-conforming residents, staff and allies at Kendal at Oberlin;

Big Bus day trips to museums and other designations (a former group that was revived);

Gluten-Free advocacy and support group.
Residents also participate in many Kendal staff committees, such as Marketing Advisory and Philanthropy.
As part of Kendal's 25th anniversary celebration in 2018, the Philanthropy Committee formed a Steering Committee comprised of residents to secure gifts and pledges for the Residents Assistance Fund. Rather than hiring a professional fundraiser, residents volunteered to solicit donations for the fund, which provides assistances to residents who, through no fault of their own, outlive their financial resources. The final tally will be announced at the 25th celebration in October, but the resident-run committee did an "amazing job," co-chair Grace Tompos says.
Another group of residents who are interested in trees, gardens and grounds came together for a couple of projects and ended up not only forming a committee, but getting the 100-acre campus certified as a Level 1 arboretum.
A multiple-year, campus-wide renovation project is underway at Kendal, and Grace, along with resident Jim Helm, meet weekly with Facility Services Director Rey Carrion for updates and to voice resident concerns. They report back to residents at the monthly KORA meeting.
Three seats on Kendal's board of directors are reserved for Kendal residents, plus a KORA representative, typically the president, also attends board meetings. In addition, a member of the board of directors attends KORA's monthly meeting.
Communication Channels Keep All Informed
Residents operate their own website and a monthly newsletter called The Kendalight. They maintain bulletin boards on a variety of topics, including volunteer opportunities, cultural activities and "points of view."
CEO Barbara Thomas holds two open meetings each month. At the Afternoon Exchange, she and other administrators update residents on projects, activities and the like, with time always for questions. The morning Coffee Hour is more informal, with the focus on resident concerns and questions.
Lately, at the monthly meetings, Barbara has been sharing results of a resident satisfaction survey (92% participation) conducted by an outside company.
Compared to other retirement communities, Kendal scored in the 90%-plus in three areas - voice, connection and fulfillment. Comments included:
There are a variety of ways residents have their voice heard by administration;

Administration makes a sincere effort to address issues raised by residents;

Kendal is transparent with residents;

Kendal fosters an atmosphere that encourages residents to find a sense of belonging;

The environment of Kendal encourages social interaction among residents;

Kendal fosters an atmosphere that encourages me to pursue meaning in my life;

I feel appropriately challenged and stimulated living here;

Kendal helps me live the life I choose.
Every fall CFO Ann O'Malley holds a budget forum so residents can review items that may impact the budget plans, voice concerns and, always, ask questions.
"I tell people that it's difficult to understand how Kendal works until you get here," Grace Tompos says. "Opportunities abound, there's no limit to what you can become involved with at Kendal. And it's fun to be involved and see what you can accomplish."
The Values and Practices of Kendal
The deep roots that sustain Kendal and promote, among other things, a resident voice are found in its Values and Practices.
They include:
To enhance the quality of life and vitality of those we serve and to foster a sense of community;

To promote an environment of continuous learning;

To encourage and welcome all people;

To value participation, transparency and consensus building;

To continue to grow;

To foster a culture of generosity;

To maintain integrity and high ethical standards.
At a recent Kendal-wide gathering of marketing directors, Ann Francis, who is a Quaker, spoke about these Kendal values.
"As KORA president working with so many residents and staff, I get to see our values-driven community in action in all its richness and imperfections and possibilities. Amazing things happen when we work together. It certainly can be challenging to treat everyone with dignity and respect, to think what is the best for the whole community and not just push for our individual wants and needs, to be inclusive, and to provide services and care consistent with our values. I know we are not perfect. As one resident put it – this is not utopia.
There are systemic issues that we face as individuals, as a Kendal community, as a Kendal system and in the communities outside of Kendal that challenge us. As we continue to grow and to learn, we must be vigilant about affirming our values. For me, knowing Kendal's history and accomplishments and benefitting from the hard work that has gone into creating communities such as Kendal at Oberlin give me hope and sustain me. The Kendal Values and Practices booklet reminds me of what I am supposed to be doing, what staff is supposed to be doing, what we are trying to do together. It is a fine guide and we need to make use of it."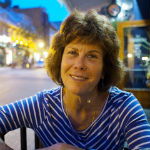 In the past, Molly Kavanaugh frequently wrote about Kendal at Oberlin for the Cleveland Plain Dealer, where she was a reporter for 16 years. Now we are happy to have her writing for the Kendal at Oberlin Community.