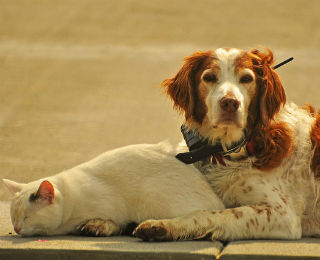 Older adults who have owned animals undoubtedly know their pet companions make them feel good. They are great friends, always glad to see you and they offer unconditional love. "The bond between animals and humans is part of our evolution, and it's very powerful," says Dr. Ann Berger, a physician and researcher at the National Institute of Health Clinical Center in Bethesda, Maryland. Pets can also be a factor in improving your health.
According to the Centers for Disease Control and Prevention (CDC), pets can decrease your blood pressure, cholesterol levels, triglyceride levels and feelings of loneliness while increasing your opportunities for exercise and socialization.
Following are some ways pets can positively impact the physical, emotional and social well-being of older adults:
Physical Health
According to the CDC, older adults, without physical limitations, need at least two and a half hours of moderate aerobic activity every week. WebMD Concludes that pet owners are often more physically active than people, who are sedentary. This goal can easily be reached by walking a dog for 30 minutes a day or two 15 minute walks. This actually would exceed the suggested requirement.
Improved heart health is another potential physical benefit of interacting with animals for older adults. Both the CDC and the National Institute of Health (NIH) have conducted heart-related studies on people with pets, which conclude that pet owners often had lower blood pressure and lower heart rates during rest than people who did not own a pet.
Emotional Health
Animals are proven to have a significant impact in reducing stress for people of all ages. Frequently time spent with a dog or cat, or even watching fish swim, can reduce levels of anxiety and stress. Making a connection with animals naturally lowers cortisol, a hormone associated with stress, and boosts serotonin, a chemical associated with well-being.
Beyond stress, interacting with animals has proven to be effective in addressing depression. Pets provide unconditional love and comfort. According to the American Veterinary Medical Association (AVMA) pet ownership increased 17.7 percent between 2006 and 2011 among people who experienced the loss of a spouse or loved one.
Social Health
Pets, especially dogs, can help older adults feel comfortable meeting new people because they are natural conversation starters. Animal lovers rarely pass a dog without making a comment to the dog and the owner. This helps ease people out of social isolation or shyness says Nadine Kaslow, PhD, professor of psychiatry and behavioral sciences at Emory University, on WebMD. "People ask about breed; they watch the dog's tricks," she says. "Sometimes the conversation stays at the 'dog level;' sometimes it becomes a real social interchange."
Well-behaved pets have been welcome at Kendal at Oberlin since the community opened in 1993.