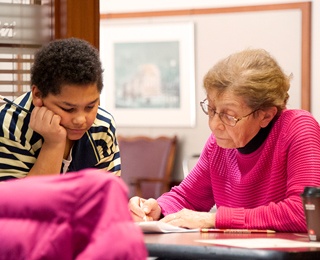 I recently had a senior moment, but not your typical one of forgetfulness. This was more like a senior memory moment.
Last month, I was reading a book written by Jack Matthews, one of my favorite Ohio University professors, who was a great storyteller and novelist. The book was written in the early 1970s, at the time that our paths crossed. Reading the author bio, I was shocked to realize that Jack was in his late 40s when I met him, not the "old" man of my memories.
______________________________
Sign up now for Kendal at Oberlin's downsizing discussion and paper-shredding event.
______________________________
Fast forward to my upcoming 65th birthday. Almost all of us hope to live a long life, considering the alternative, but our definition of aging certainly changes as we grow older. Jack died a few years ago at age 88, which I'm not sure is so old today.
A funny, insightful video from AARP captures this paradox. Millennials were asked, "What age do you consider old?" The men and women in their 20s said they considered old to be people in their 40s and 50s. Also illuminating were their negative portrayals of how old people walk across the street and send a text.
Attitudes about Age Go Both Ways
Millennial attitudes toward older Americans are not all negative.
According to a 2010 study conducted by the Pew Research Center:
Millennials respect their elders. A majority say that the older generation is superior to the younger generation when it comes to moral values and work ethic.
More than 6 in 10 say that families have a responsibility to have an elderly parent come live with them if that parent wants to.
As they make their way into adulthood, millennials have already distinguished themselves as a generation that gets along well with others, especially their elders.
So what do older adults think about the younger generation? That issue has been explored quite a bit in the workplace, where the two generations frequently come together, and the results have not been too favorable for young Americans.
According to the New York Times, surveys of middle-aged business owners and hiring managers report "the new workers lack the attitudes and behaviors needed for job success. They don't have a strong work ethic...They're not motivated and don't take the initiative. They're undependable and not committed to their employers. They need constant affirmation and expect rapid advancement."
But, as the article points out, older people complaining that a younger generation is not driven and focused is hardly new.
Ageism – the One "Ism" We Could All Face
It isn't just millennials who, at times, express negative attitudes about aging. All ages contribute to "ageism," a prejudice or bias against people because they are older.
Older adults are also guilty, with the "I'm too old to…." attitude about learning and trying new experiences. That said, I know plenty of older adults who have a lengthy "bucket list" full of adventurous and fun goals. (On my mother's list was attending a Jimmy Buffett concert, which she did at age 80.)
And the problem of ageist attitudes is worldwide, according to an analysis of the World Health Organization that found 60 percent of respondents (83,000 people from 57 countries) believe older people are not respected.
"This analysis confirms that ageism is extremely common. Yet most people are completely unaware of the subconscious stereotypes they hold about older people," said John Beard, WHO Director of Ageing and Life Course. "Like sexism and racism, changing social norms is possible. It is time to stop defining people by their age. It will result in more prosperous, equitable and healthier societies."
Sometimes the ageist behavior is unconscious, such as talking loud or talking over the older person in front of you, assuming he or she has hearing or cognitive problems. Other times, ignorance is the culprit.
For instance, staff members at a continuing care retirement community may not be aware of how to care for people with dementia and memory loss.
"There is a need for staff to understand the cycle of living and why older people may behave as they do. For example, we've had an extensive program on dementia training in 2016. And we invite staff to consider the vibrancy of much older people who are still independent," says Maggie Stark, director of admissions and marketing at Kendal at Oberlin in Ohio.
Sometimes, the words we use perpetuate ageism. "Choice of words is so important. People who are adults do not wear diapers, but disposable undergarments. Not bibs, but clothing protectors. They are assisted in eating, not fed," says Carol Silver Elliott, president and CEO of Jewish Home Family in New Jersey.
"Elderly," even "senior citizen" can have negative connotations, and today many healthcare professionals, community organizations, media and the like use "older adults" or "older people."
How to Promote Positive Aging
Positive aging, a concept promoted by the World Health Organization is about creating a society that prepares for and celebrates the aging process.
According to the Positive Psychology Program, positive aging is achieved by:
Supporting people of all ages to achieve their full potential;
Respecting older adults' engagement in economic, social, cultural and family life;
Fostering better solidarity between generations;
Creating a society where equality, independence, participation, care, self-actualization, and dignity of all people are the prime objectives.
One of the first things people need to do is to challenge their stereotypes of older people.
The World Health Organization lists several stereotypes, including older people are not productive employees and will eventually become senile.
"It is not age that limits the health and participation of older people. Rather, it is individual and societal misconceptions, discrimination and abuse that prevent active and dignified ageing," according to WHO.
To broaden your knowledge, find credible information and don't believe everything you see or read on the Internet about how older people behave.
Intergenerational Relationships Prevent Ageism
Developing intergenerational relationships is one of the best ways to learn about the other generation. Older adults may get a fresh insight into politics, work, relationships and technology by engaging with millennials, for instance. And being active and engaged is good for their health, studies show.
Intergenerational relationships also help young people develop positive attitudes about aging.
Take the video mentioned at the beginning of this blog: After voicing their opinions about growing old, the millennials met a handful of older adults. They were given 2 minutes to teach each other a skill, such as a yoga pose and dance step. Afterwards, the millennials changed their definition of old to 80, 90, even 100 years old.
"It really changed my thinking of what old is," a 19-year-old woman says.
Kendal at Oberlin and the city of Oberlin have been recognized for their efforts to promote intergenerational living. The life plan community was named a "Program of Distinction" by Generations United for its intergenerational programming, and the city was named in 2012 one of five "Best Intergenerational Communities" in the country by Generations United and MetLife Foundation.
______________________________
Find out more about the benefits of intergenerational relationships.
______________________________
Kendal has many formal and informal mentoring programs and other activities with Oberlin City Schools and Oberlin College.
One of the most popular is "Ars Moriendi: Death and the Art of Dying." First-year students at Oberlin College are paired with a resident, and they meet informally for at least an hour weekly to talk, attend lectures, or share a meal.
"It's not about academics; it's about relationships," Michele Tarsitano-Amato, director of Creative Arts Therapy, tells residents. "How have you lived your life and what would you say to someone younger of what not to miss?"
Many other residents volunteer at the Early Learning Center, which is housed on the Kendal campus.
Contact us to learn more about how Kendal residents defy attitudes about aging.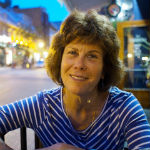 Molly Kavanaugh frequently wrote about Kendal at Oberlin for the Cleveland Plain Dealer, where she was a reporter for 16 years.