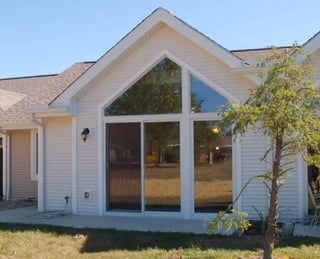 Carl and Barbara Whitehouse visited Kendal at Oberlin and a half-dozen other life plan communities before deciding to make Kendal their new home. The couple knew little about Ohio, having spent their years in Vermont and Canada, and knew no one at Kendal.
But during their three visits to Kendal, they sensed new friendships would be easily forged.
"The people you are with are more important than the geographic location," Carl says.
They liked that Kendal was within walking distance to downtown Oberlin and Oberlin College, and was located in a more rural area. The renovated cottages also appealed to the Whitehouses.
Kendal, which opened 25 years ago this fall, is in the midst of a major renovation project of its 139 original cottages (an additional 36 cottages were built in the past 10 years). Improvements include cathedral ceilings, updated kitchens and geothermal heating and air conditioning.
The couple moved into their new home, a one-bedroom cottage with a den, in November.
"We've built homes, we're kind of architectural nuts, and we love it," Carl says.
Residents Love the Renovated Cottages
Maggie Stark, Director of Admissions and Marketing, hears lots of kudos from residents about the cottage updates.
"Light is so important, and the cathedral ceiling gives a sense of openness, airiness, and light," Maggie says.
In bathrooms a light tube is installed above the sink to allow for natural light. "Sometimes it lights the room up so much that residents think they have forgotten to turn the light off," she says.
Other cottage renovations are:
Over 150 square feet of additional space that extends the living area and creates a sunroom with a sliding glass door;
Remodeled kitchen that includes new cabinets, countertop, backsplash and appliances;
Additional natural light in bathrooms;
New flooring (vinyl, laminate or carpeting);
Geothermal heating and air conditioning, which creates an even and quiet air flow.
Almost half of the cottages have been renovated since the project began in 2013. The process takes about four months to complete and is undertaken when a cottage becomes vacant. Six floor plans are available.
Typically when an original cottage that has not been renovated becomes available, the marketing staff contacts the next candidate at the top of the waiting list to see if they are interested in the floor plan and location and are ready to move.
If so, the future resident signs a contract with a 10 percent deposit, then meets with Ryan Stalzkowski, Assistant Director of Facility Services to pick out selections – type of flooring, kitchen and bathroom cabinets, kitchen countertop and backsplash and wall paint.
The waiting list for a renovated cottage is one to two and a half years. "We encourage them to go on multiple waiting lists to increase their likelihood of getting in sooner," Maggie says.
In its early stage is the apartment renovation project, with eight of the 48 apartments complete. Improvements include renovated kitchens and bathrooms, addition of a washer/dryer and new flooring. Depending on floor plan selection (five are available), the waiting list for an apartment ranges from six months to two years.
Carports are also being replaced with garages with automatic door openers.
The campus-wide housing renovations should be complete in four to five years, Maggie says.
The community space renovation, which includes a state-of-the-art fitness center, naturally lit art studio and new horticulture sunroom building, was complete in 2015.
Whitehouse Move to Kendal not a Typical One
Carl and Barbara moved to Canada from Vermont in 2005 after they retired – he was an optometrist and she a school librarian. Barbara was born in the province of Quebec and has dual citizenship, and the couple lived in a cottage on Big Rideau Lake in Perth, Ontario.
As an only child, Carl saw firsthand the benefits of a continuing care retirement community when his mother moved to one in Kansas. She was happy, had lots of friends and when she was diagnosed with ALS, also known as Lou Gehrig's disease, was surrounded by a caring community.
"I didn't have to worry about her," he says.
The Whitehouses have three sons scattered across the country – Seattle, Jacksonville, Florida, and Bethlehem, Pennsylvania – and decided moving to a life plan community would be a gift for their children and a good way for them to maintain their "bones and brains."
Once they decided on Kendal, the couple got on the waiting list for a renovated cottage. But instead of waiting until a cottage was available, the Whitehouses decided to move into a Kendal apartment and divide their time between Ohio and their home in Canada 10 hours away.
That was November 2016, and about a year later Maggie called. In the 11th hour, a couple had decided not to move to Kendal and their renovated cottage was just about ready for occupancy. Were the Whitehouses interested?
The good news: The cottage was an end unit, overlooking a pond and woods with a southern exposure.
The not-so-good news: Cabinets, flooring and all the other improvements were in place and the couple would not be able to select their preferences.
The couple said "yes," moved into the cottage in November, and are slowly filling the space. Carl took a door off a closet and turned it into a mini-office and is planning to build plate rails and use his woodworking skills in other ways.
But the final step of their move to Kendal will take place this fall when they leave their Canadian home for the last time and move their remaining furnishings to Oberlin.
The small baby grand piano will stay behind, along with other furnishings and items.
"It's one of the sacrifices you have to make," Barbara says.
The Whitehouses aren't concerned about the upcoming downsizing, given that they moved from a 3,000 square foot house in Vermont to a cottage half that size. The Kendal cottage is 1,121 square feet.
"We got a lot of ideas from this book – Not So Big House – and we are always looking for stuff that does double duty," she says. For instance, Carl plans to add bottom shelving to their counter height butcher block table for storage.
Even though the Whitehouses are newcomers and part-timers at that, they have gotten involved in several activities. They are on the Arboretum Committee and recently co-chaired the annual Robert Burns dinner. Barbara volunteers at the Early Learning Center and helps with the twice-monthly book mobile. Carl joined the Woodshop and is giving a talk this month about the political differences between Canada and the United States.
Three times a week they walk to the gym for workouts, and once a month gather for dinner with their new neighbors.
"We will miss Ontario. There's nothing like sitting on the deck at 4:30 with a glass of wine looking at the beautiful sunset, with loons, ducks and osprey," Barbara says.
But their new home calls.
"I'm pleased with Kendal. It's been here 25 years and things need to be done and they are busily improving," Carl says. "And it's become clear – this population of people is very special."
Enjoy a Vibrant Lifestyle at Kendal at Oberlin
Kendal at Oberlin offers a vibrant, resident-driven lifestyle with attractive living spaces for independent living, residential services, amenities and coordinated on-site wellness and health care for life.
Are you interested in learning more about life at Kendal at Oberlin? Explore our website, read our blog, sign up for our weekly email or contact us for more information.
In the past, Molly Kavanaugh frequently wrote about Kendal at Oberlin for the Cleveland Plain Dealer, where she was a reporter for 16 years. Now we are happy to have her writing for the Kendal at Oberlin Community.