Published: October 28, 2019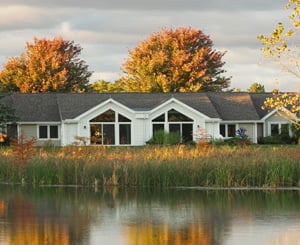 Given their sheer numbers, Baby Boomers have made a mark on just about everything on our country's landscape, from education and employment to social reform and travel, since they landed in 1946. It's no surprise that as they retire – an estimated 10,000 daily – that these men and women are redefining issues critical to aging.
It's also no surprise that the largest group of Boomers falls in the middle-income range (currently $25,000 to $75,000 for those 75 to 84 years old) and a new study says it's time to focus on their needs given the high cost of housing and health care for older adults.
"The low-income cohort has been taken care of by tax subsidies, while the high-income cohort is largely self-sufficient. But the middle-income seniors have been ignored," said Beth Burnham Mace, chief economist at the National Investment Center for Seniors Housing and Care and one of the authors of the study "The Forgotten Middle: Many Middle-Income Seniors Will Have Insufficient Resources for Housing and Health Care."
Let's Talk about Housing for Older Adults
We have all heard about subsidized housing for seniors and Continuing Care Retirement Communities, basically low-income and high-income options. But up until recently, we haven't heard much about housing for middle-income older adults, now been dubbed the "middle market."
The nonprofit LeadingAge took a look at the issue in a white paper called "Addressing the Gap in Senior Housing Today: Creating Opportunities in the Mid-Market" and found that while older adults "experienced greater gains in economic status," they face limited housing options.
Some less costly housing solutions suggested in the white paper include:
Communities that offer value, peace of mind and independence, but not expensive amenity spaces, elegant meals and services such as housekeeping and fitness staff;

Working with architects experienced in moderate-priced housing who can design an affordable community without elaborate common spaces;

Forming partnerships with local government and agencies to address zoning, property access and other issues.
Related: How Baby Boomers are redefining aging >>
More from the National Investment Center (NIC) Study
The number of middle-income seniors is projected to nearly double, from 7.9 million to 14.4 million, by the year 2029. An estimated 60 percent of them will have mobility limitations and 20 percent will have high health care and functional needs. This large group will also be more racially diverse and educated, and include more women and smaller families, compared to today's seniors.
NIC researchers concluded:
As Baby Boomers age, middle-income seniors will become a larger and more diverse group, many of whom will have health, cognitive, or mobility limitations that make it difficult for them to live independently. Unfortunately, most middle-income seniors will not have the financial resources required to pay for private senior housing options. Innovations from policymakers and private-sector housing operators and their investors will be required to serve this middle-income cohort.
Added Brian Jurutka, NIC's president and chief executive officer, "This research sets the stage for needed discussions about how the nation will care for seniors who don't qualify for Medicaid but won't be able to afford senior housing. This discussion needs to include investors, care providers, policymakers, and developers working together to create a viable middle market for senior housing and care."
What's 'Missing Middle Housing'?
Along with "middle market," another new term being tossed around these days when it comes to housing is "missing middle housing."
Explains AARP in its report entitled "Building Housing for All Ages,"
Across the United States, there is a mismatch between the available housing stock and what the market wants and needs. This is partly due to shifting demographics, such as a rapidly aging population and shrinking household sizes, and partly due to the growing demand for walkable living. Such residences are described as missing because very few have been built since the early 1940s due to regulatory constraints, the shift to auto-related patterns of development and financing challenges.
This housing includes single-family and multi-family buildings, and rental and owner-occupied in the same neighborhood, which is often a challenge to build because of existing zoning codes.
Other characteristics of "missing middle housing" include:
Ideally located within a walkable area and close to amenities

Never exceeds the scale of a house (height, width and depth)

Mixes well with other building types

Features small but well-designed residences, often with floor plans similar to those common in single-family homes

Creates a sense of community within a building and in the neighborhood.
Besides empty-nesters, young adults and moderate-income families are also looking for this type of middle housing.
Related: Planning your future - living options for Boomers >>
Affordable U.S. Cities for Retirement
Location, location, location, realtors preach. The house structure is only half of the equation when it comes to finding an affordable place to retire. The East and West Coasts are generally expensive, but there are lots of cities scattered across the country that offer value to older adults, according to Kiplinger. They looked at affordability, safety, and availability to health care and recreational facilities to come up with a list of 30 cheap and desirable cities for retirement.
Ohio has one city on the list – Columbus. Here are six other regional cities listed:
Peoria, Illinois

Lexington, Kentucky

Morgantown, West Virginia

Fort Wayne, Indiana

Knoxville, Tennessee

Charlottesville, Virginia
Why Choose a Retirement Community?
For some seniors, a retirement community may bridge the gap and provide that much-needed middle housing option.
At Kendal at Oberlin, our community is close-knit and walkable. You can choose from a variety of floor plans ranging from studios to two-bedroom cottages. You'll also have the peace of mind that your future health care needs can be accommodated right on campus.
Is Kendal at Oberlin a good financial fit for you?
---
Try our simple calculator to learn more about our costs and how they compare with your budget.


In the past, Molly Kavanaugh frequently wrote about Kendal at Oberlin for the Cleveland Plain Dealer, where she was a reporter for 16 years. Now we are happy to have her writing for the Kendal at Oberlin Community.