Published: August 11, 2020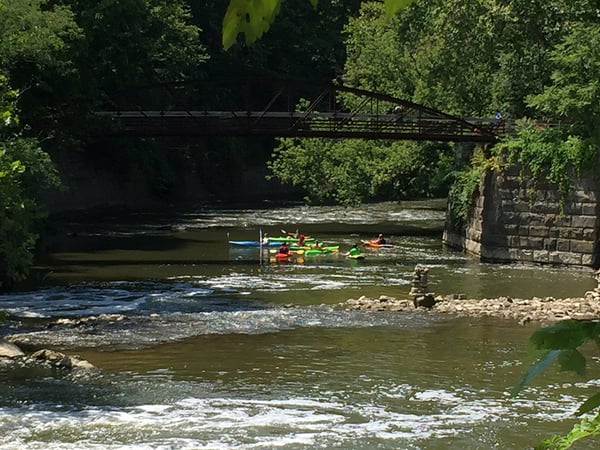 Visiting our country's 62 National Parks has always been a healthy pastime embraced by young and old. Thankfully, COVID-19 hasn't dampened our enthusiasm. The National Park Service continues to increase access and services in a phased approach across the country. So fingers crossed, you'll be able to visit one of your favorite parks in 2020.
And with celebrations few this summer, U.S. Secretary of the Interior David L. Bernhardt just designated August 4th as the "Great American Outdoors Day" to celebrate President Trump signing the Great American Outdoors Act this week.
The act combines two major conservation initiatives into one legislative package. It establishes the National Parks and Public Lands Legacy Restoration Fund (Restoration Fund) and guarantees permanent full funding for the existing Land and Water Conservation Fund (LWCF). This will allocate $900 million a year to the LWCF and provides up to $9.5 billion over five years to begin clearing up a backlog of maintenance projects at national parks across the country. The LWCF was introduced last year by U.S. Rep John Lewis who died in July.
In future years, every August 4 will be a free entrance day to celebrate the signing of this landmark legislation. (Dates may vary but free entrance celebrations are the birthday of Martin Luther King, Jr. Jan. 15, first day of National Park Week in April, National Park Service Birthday Aug. 25, National Public Lands Day Sept. 26 and Veterans Day Nov. 11.)
Since many of us want to limit the amount of time we're on the road this year, let's take a look at our four midwestern National Parks, starting with the most popular one system wide. (Be sure to check COVID-19 updates before heading out.)
Great Smoky Mountains National Park
Last year 12.5 million people visited Great Smoky Mountains in Tennessee and North Carolina (twice as many as #2 Grand Canyon).
The park has more than 500,000 acres for hiking, biking, camping and sightseeing. One of the best times to visit the park is autumn when spectacular reds, golds, oranges light up the tree-lined mountains.
Two recommended scenic drives are:
The Blue Ridge Parkway, "which begins just north of Cherokee, NC, on US-441, near the entrance to Great Smoky Mountains National Park. The scenic parkway follows the crest of the mountains for 469 miles, all the way to Shenandoah National Park in Virginia. Frequent auto pullouts along the first few miles provide spectacular views of the Smoky Mountains in all their autumn finery."
Roaring Fork Motor Trail begins just outside Gatlinburg and takes you by several trails including Grotto Falls and ends by a waterfall called "Place of a Thousand Drips."
There are also five recommended hikes for autumn colors.
Indiana Dunes National Park
Indiana Dunes was named a national park in early 2019, second newest after White Sands National Park in New Mexico was dubbed a national park in late 2019. The Dunes is 15 miles of beach along the southern short of Lake Michigan between Indiana cities of Gary and Michigan City.
Think sand and solitude.
"Whether you enjoy scouting for rare species of birds or flying kites on the sandy beach, the national park's 15,000 acres will continually enchant you. Hikers will enjoy 50 miles of trails over rugged dunes, mysterious wetlands, sunny prairies, meandering rivers and peaceful forests," according to the parks service.
Writer Henry Alford visited the park last summer a few months after its named changed from a national lakeshore to a national park. "At the park's eastern end, right on the lake near Michigan City, I visited a 126-foot-tall dune called Mount Baldy. Carefully heeding the prescribed walking route — in 2013, a child was trapped on Baldy for four hours — I climbed over the dune and then trudged for three minutes down its gorgeous, windswept front to the wholly unpeopled beach on Lake Michigan," he wrote in the New York Times.
Mammoth Cave National Park
National Geographic calls it "one of the world's great natural wonders. With more than 400 miles of mapped passageways, Mammoth Cave National Park encompasses the planet's longest known cave system, with five levels and caves yet to be discovered."
One of the best ways to explore the cave is with a tour, but because of COVID-19 the only option is a 90-minute self-guided tour.
"Over 30 miles of the Green and Nolin Rivers trace through the Mammoth Cave National Park and offer a wealth of recreational opportunities. Angle for muskellunge, bluegill, catfish, bass, perch, crappie, and other game fish. Canoe or kayak the rivers looking for wildlife, springs and river bluffs," according to National Park Service. (Canoe and kayak rentals are available in the park.)
The park is also popular with bicyclists, and is included in two U.S. Bicycle Routes (USBRS) that connect urban and rural communities across the United States via signed roads and trails.
Cuyahoga Valley National Park
Ohio is home to one national park, located in Summit and Cuyahoga counties.
The Towpath Trail follows the historic route of the Ohio & Erie Canal and is a bicycle, jogging and walking destination.
Another popular destination is Brandywine Falls, a 60-foot waterfall that is easily accessible year-round. (Ice formations in the winter are captivating.) The 1.5-mile Brandywine Gorge Trail lets you explore beyond the waterfall. The trail is worth revisiting in the spring to view vernal pools that temporarily fill with water, attracting breeding salamanders.
The popular Cuyahoga Valley Scenic Railroad that runs through the valley and along the Cuyahoga River is canceled through September. Check the park for updates.
What about Overnight Lodging?
Camping, cabins and other types of lodging are available in or near the parks, but with the pandemic you might not be comfortable spending the night in an unfamiliar place. (And regardless of a pandemic, you might not be comfortable pitching a tent and sleeping on the ground.)
"Worried About Social Distancing When Traveling? Join the Crowd and Rent an R.V." reads a recent headline in the New York Times.
"When you rent an R.V., you're getting a rental car, hotel and more direct access to where you want to go," said Jon Gray, the chief executive of RVshare. (Plus, a bathroom and FYI – gas prices are low.)
Gray says the cost of renting an RV runs from around $50 a night for a popup camper to $1,000 a night, depending on size and level of luxury. But he says for most, he says the cost averages $1,000 a week.
Demand for rentals has been high this summer but in the fall when children are back in school (even if it's virtual) you should be able to find one to fit your needs – from oversized vans to bus-size and towable options.
Make sure you carefully review the rental contract. How many miles can you drive without incurring additional costs? What is the per mile charge over the limit? Pet friendly, but is there an extra charge to bring your four-legged friend? What about a cleaning charge?
And remember (as if you can forget) we have a pandemic.
Jeanette Casellano, a spokesperson for the American Automobile Association, says to make sure your destination is open and whether it is located in a state with quarantine requirements, which can change overnight.
"Do as much research as you possibly can, so that you can enjoy your trip and relieve any anxiety you have before you get there," Casellano said in a recent NPR broadcast.
There lots of options for overnight parking besides campgrounds. Hipcamp features unique outdoor stays for RV and other camping, such as horse farms and apple orchards. Stores with large parking lots – think Walmart and Cabelas – might allow free overnight parking, but availability varies by locations so be sure to check beforehand.
Add Oberlin to Your Must-visit List!
---
Small town charm, metropolitan amenities. Plan a visit to Oberlin soon for unique shops, restaurants and more!

In the past, Molly Kavanaugh frequently wrote about Kendal at Oberlin for the Cleveland Plain Dealer, where she was a reporter for 16 years. Now we are happy to have her writing for the Kendal at Oberlin Community.