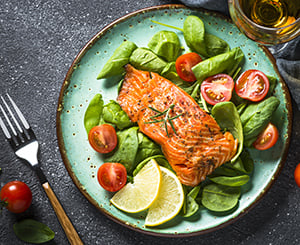 When it comes to eating healthy, less is more and dark green, red and orange veggies are best. Sure, eating healthy is a year-round activity, but during March, National Nutrition Month, health experts give us a refresher course on what to eat to stay healthy and active.
For older adults, that means eating fewer calories than in years past.
"Enjoy your food but eat less," the Academy of Nutrition and Dietetics advises. "Avoid oversized portions. Try using a smaller plate, bowl and glass. When eating out, choose lower calorie menu options. When portions are large, share a meal or take half home for later. Write down what you eat to keep track of how much you eat."
And, of course, avoid sugary drinks. Water is a healthy substitute.
Go Easy on the Salt
Any discussion about nutritious eating has to include salt because Americans eat too much of it. Overconsumption of salt (or sodium chloride) can lead to high blood pressure, also known as hypertension, which can lead to serious health problems such as heart disease and stroke.
"The risk of high blood pressure increases as you age. Until about age 64, high blood pressure is more common in men. Women are more likely to develop high blood pressure after age 65," according to the Mayo Clinic.
Along with age and salt, other risk factors include obesity, smoking and stress. Don't you agree that reducing salt consumption is one of the easiest things you can do to reduce your risk for high blood pressure?
Try these salt suggestions from the Academy:
Eat more fresh fruits, vegetables, fish and meats, which are naturally low in sodium;

Eat less processed and prepared foods such as pizza, cured meats, and canned soups, which are high in sodium;

Instead of sprinkling food with salt, season foods with herbs, spices, black pepper, lemon juice and other salt-free seasonings;

Go light when pouring soy sauce, ketchup and salad dressing on your food;

Give your taste buds time to adapt to less salt - and they will (and remember that taste and smell tend to decline with age.)
The 2015-2020 Dietary Guidelines for Americans recommends that adults and children ages 14 years and older reduce their sodium intake to less than 2,300 mg. a day. Those diagnosed with prehypertension and hypertension are encouraged to only eat 1,500 mg a day.
Get in the habit of reading the Nutrition Facts label. Look for foods labeled "low sodium," "reduced sodium" or "no salt added."
Nutrition is a Big Topic at Kendal
Eating healthy food is a staple on the Kendal at Oberlin campus. So is a fruitful conversation about nutrition, whether it's during committee meetings, across dining room tables or at community-wide forums, like the one held this month.
"Food is one of the top social factors that determine health care outcomes," said Ben Butler, Vice President for Kendal Corporation's Dining Services, and one of five professionals on a panel to discuss nutritious eating at Kendal.
Affiliates of The Kendal Corporation have Registered Dietitians on staff and the organization is examining ways the communities can work with the "Food as Medicine" movement. Some Kendal affiliates emphasize meals from the Mediterranean diet (high in fish, fruits and vegetables, low in red meat and trans fats) and strive to offer a variety of vegan and vegetarian options.
You may also enjoy Diet Consideration for a Healthy MIND >>>
Greg Zehe, Kendal at Oberlin's Director of Dining Services, emphasized the importance of offering culinary choices for residents, a theme reiterated by Barbara Thomas, Kendal at Oberlin's CEO.
Residents in attendance raised several questions and concerns, including a request for more vegetarian and fermented foods on the menu, and more discussion about sugar in diets.
By the way, residents initiate meal changes too. Carla and Bob VanDale recently started Third Friday Vegan Dinners. The meal is cooked by Kendal's culinary staff and open up to 30 diners. In February, diners enjoyed a plant-based Italian meal and this month a Middle Eastern meal.
Greg told the audience that the Kendal dining staff takes comments from residents to heart and is committed to the idea that it is not right to ask people to live in a community where they can't enjoy the food. "It is up to Kendal to find a way to serve them," he said.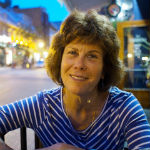 In the past, Molly Kavanaugh frequently wrote about Kendal at Oberlin for the Cleveland Plain Dealer, where she was a reporter for 16 years. Now we are happy to have her writing for the Kendal at Oberlin Community.