Published: July 18, 2023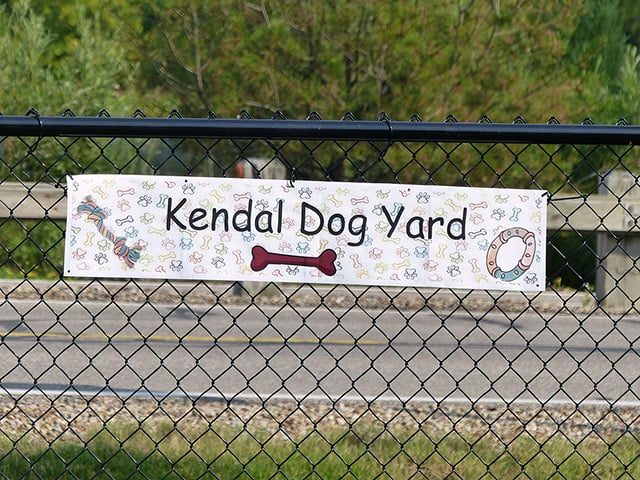 When new residents arrive at Kendal, they are welcomed by mentors, handbooks, tours, meet-and-greets and the like. Same goes for the furry four-legged residents, which now number around 22 dogs and 30 cats.
Yes, Kendal is a pet-friendly community, made even friendlier this month with the official opening of the Kendal Dog Yard. The fenced-in space is about four times the size of the original dog park and has water and soon a waste station along with decorative flower boxes and a maple tree.
"We are all encouraged to be active and fit. The dog park allows our canines to be off lead so they can run, play with agility equipment, and have fun with canine friends," says resident Barb Benjamin.
Kendal's new Dog Yard was fully funded with donations, most of which came from residents Joyce and Barb Benjamin, who have two dogs. The couple also purchased the commemorative "Autumn Blaze" maple tree, which is "Dedicated to the Canines of Kendal."
Permanent signage is to come, so receptionist Karen Wright designed a temporary "Kendal Dog Yard" sign for the July opening.
The project was a major undertaking by Kendal residents and staff, says Kathy Caldwell, chair of the Pet Matters Committee. "It's taken up most of my time for the past year and a half," she says.
Taking Care of Kendal Cats and Dogs
New residents who arrive with a pet often have questions related to their canine or feline: Where is a nearby veterinarian and kennel? What parks are dog-friendly? What are the pet rules at Kendal?
Thanks to Pet Matters members, those answers are easily found. Residents are given a move-in packet with animal-related information and are assigned a pet mentor. They are also asked to fill out a caregiver form, designating who will take care of their pet if they are temporarily or permanently unable to do so.
Every Sunday interested dog owners meet up for a pack walk, which is always a good time to hear the latest pet news. It doesn't take long for dogs to figure out who hands out treats (front desk for sure).
Training programs and parades are periodically offered. For instance, members of the Pet Matters Committee helped Stephen Care Center residents decorate their rollators, wheelchairs and themselves for Fourth of July festivities, then held an indoor parade with three of the Kendal dogs - Nana, Spirit and Heidi.
"Flags were waving along with singing songs accompanied by a kazoo," says Kathy, Heidi's owner.
Residents who own dogs frequently walk through the care center to say hi to residents and visit in their room. The community has one therapy dog – Elizabeth Hole's Spirit.
Cats make visits too. Volunteers with the Oberlin-based CATSS (Community Action To Save Strays) visit care center residents with kittens awaiting adoption.
A New Dog on Campus
Ully, a 5-year-old Golden Retriever, arrived on campus in April with owners Louise Hausman and George Wright.
While the couple are not big fans of dog parks, when they first visited Kendal 10 years ago they inquired if Kendal was going to build one, thinking it would be a plus for their dogs. Nope, they were told, so were pleasantly surprised to see circumstances had changed.
Now Louise is working on a plan to get shade in the Dog Yard. "I think I have a plan but it will take a year," she says.
Meanwhile Louise, George and Ully are settling in. They all miss their former yard in Milford, located north of Cincinnati, but are enjoying the off-leash play at the Dog Yard and Sunday pack walks. George is a retired veterinarian so that has helped with the transition.
Like many dog owners, Louise has rarely been without a dog and is glad to hear of possible plans for a small enclosed outdoor space for pets owned by Stephens Care Center residents. "That's an excellent idea and really far-sighted," Louise says, adding, "I don't want to ever be without a dog."
Free Guide: Why Pets Make Us Healthier and Happier
---
Learn about more the health benefits (physical and emotional) of sharing your home with a pet!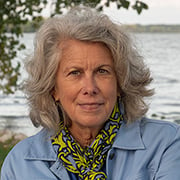 In the past, Molly Kavanaugh frequently wrote about Kendal at Oberlin for the Cleveland Plain Dealer, where she was a reporter for 16 years. Now we are happy to have her writing for the Kendal at Oberlin Community.