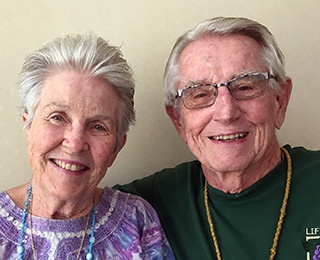 Barbara and Gordon Evans have been on the move since they met 60-plus years ago at Antioch College.
Gordon's career with the U.S. Agency for International Development and other international organizations took the couple to Pakistan, Ghana, Nigeria, India, then Washington D.C. and New York City. After a 5,000-mile "Great Circle" boat trip, they moved to Interlochen, Michigan, where they operated Between the Lakes Bed and Breakfast.
Two years ago, the Evans moved to Kendal at Oberlin.
"I can count all our moves, and this was our 25th and hopefully last one," says Gordon, as he and Barbara welcome me to their cottage with a cup of hot tea and a guest book to sign.
The Move to Kendal
Oberlin College was familiar to Barbara because her great uncle John Jay Shipherd was a co-founder of the college and many relatives attended the school.
"That's why I didn't want to go to Oberlin — everyone in my family came here," Barbara says.
But Kendal at Oberlin was an unknown, except for information shared by their son-in-law, who is on the board of Kendal's Barclay Friends in Pennsylvania, and a small ad they saw in The New Yorker.
They visited the continuing care retirement community in April 2016. "After two nights we knew this is where we wanted to be ASAP," Barbara says. Along with being impressed with staff and residents, the swimming pool, exercise room and hallways and rooms decorated with plants and flowers, the couple liked the community's focus on Quaker values.
"I grew up in Swarthmore, Pennsylvania and was very familiar with Quakers," Barbara says.
Three months later, they moved in with their Cavapoo, Duchess, and continued their on the go lifestyle.
They swim six mornings a week in the Kendal pool, and are avid walkers and bicyclists. Each semester they audit a class at Oberlin College.
"We like to select classes to find out more about where we have lived," Gordon says, adding, "Typically we don't talk in class, and sit in the back."
They attend many Conservatory of Music concerts and are members of the Friends of the Oberlin College Library.
Writing Their Own Story
In 2005, the couple published Bed & Breakfast Journey: A Lifetime of Goodbyes. They included popular recipes, such as Cashew and Dried Cherry Granola and Pumpkin Chocolate Chip Muffins, a children's favorite.
With more than 14,000 guest nights and a 45 percent return rate, they shared a couple pages of guest comments, such as this one:
Every day a body has to make certain choices…either to sit back and watch the world go by…or to step out and change your surroundings and meet someone incredible…You two are nothing less than truly incredible. Not only have you experienced much of what is available on this earth, but you have shared it with others to also experience your tremendous adventures.
They also wrote about their boating experiences aboard a 29-foot Chris-Craft named "Chez Barbara."
"One beautiful, sunny day in May of 1986, I looked out of our tenth-floor apartment window to the Hudson River just below. 'Look at all those pleasure boats there, Gordon. Don't they look like they're having fun?'" Barbara wrote.
Their nearly nine-month "Great Circle" voyage began and ended in Traverse City, Michigan, with almost 100 stops along the way, including the Great Lakes, Erie Canal, Intracoastal Waterway, Gulf of Mexico and eight rivers heading back north.
"The journey helped us to decompress and disconnect from our formal careers. It will be remembered as one of the greatest adventures in our lives," they wrote.
Once at Kendal, Barbara wrote the Evans Family memoir for their two children and two grandsons.
Speaking of which, they couldn't agree more with their grandson, who said about their 25th home: "You know what, you landed in a really great place."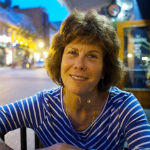 In the past, Molly Kavanaugh frequently wrote about Kendal at Oberlin for the Cleveland Plain Dealer, where she was a reporter for 16 years. Now we are happy to have her writing for the Kendal at Oberlin Community.