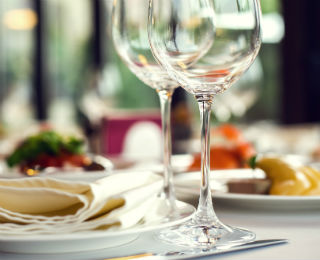 Dine with your dog, enjoy Lake Erie perch, and sample local wines.
Start the day with a healthy breakfast and dine lakeside while the sun sets.
Welcome to the Northern Ohio area, where dining is eclectic and full of nature's bounty.
Restaurants in Oberlin, Ohio
The Restaurants in Oberlin, Ohio are very eclectic. From Middle Eastern cuisine at Aladdin's Eatery, to Mexican at Agave Burrito Bar, and Indian dishes at India Garden, just to name a few.
1833 Restaurant at The Hotel in Oberlin
One of the newest eateries in town is the 1833 Restaurant at The Hotel in Oberlin, which offers "seasonally inspired menus showcasing locally-sourced ingredients and regional artisan products. A cool atmosphere, unique beverage selections, and a friendly staff make 1833 Restaurant the ideal gathering spot for colleagues, family, and friends. Serving breakfast, lunch, dinner, and Sunday brunch, 1833 is open year-round and welcomes both hotel and public guests to enjoy dining overlooking historic Tappan Square."
Black River Café
Another locally-sourced eatery, Black River Café in Oberlin serves breakfast all day. Along with the usual fare of eggs, home fries and toast, the Café's menu also includes homemade granola, vegan pancakes, and tofu scramble.
The Feve
Across the street from Black River Café is The Feve, voted by Ohio Magazine as the state's Best Brunch in 2014. The brunch menu changes weekly. For instance, selections at a recent weekend brunch included chocolate-cherry-cheesecake brownie pancakes, a smoked salmon omelet, and a burger topped with fried egg, bacon, and cheese. On weekdays, The Feve is open for lunch and dinner.
Lorenzo's Pizza
Mondays after 5 p.m., bring your dog along to Paws on the Patio at Lorenzo's Pizza in Oberlin.
Northern Ohio Restaurants
Amherst is a charming and walkable small town, just a few miles from Oberlin. If you go, be sure to check out The Corktree Tavern or Cole's Public House for an delightful fine dining experience. Then enjoy a stroll to some of the neat shops nearby, such as Giuseppe's Wine Cellar and The Mermaid's Tale.
For a unique breakfast experience, head to 48 Cleveland Road in Norwalk. The Star Diner is a no-frills, cash-only American diner that is open daily from 5 a.m. to 2 p.m. Enjoy a bike ride nearby at the North Coast Inland Trail.
The outdoor patio at Woodstock Café in Vermilion is a great place to enjoy sandwiches, submarines, pizza, and craft beers with your dog by your side.
Quaker Steak & Lube, located on the Vermilion River in Vermilion, is another pet-friendly restaurant that is known for delicious Lake Erie yellow perch. Other restaurants that feature Lake Erie perch include Mon Ami Restaurant and Jolly Roger Seafood House in Port Clinton, and Angry Bull Steakhouse in Huron. At Jackalope Lakeside in Lorain, in addition to delicious seafood entrees, you can enjoy stunning views of Lake Erie. The exceptional lakefront dining experience at Pier W in Lakewood and The Harp in Cleveland were described by Plain Dealer reporter Joe Crea:
Pier W in Lakewood. "If fine dining in an intimate setting is your aim, Pier W offers one of the region's premiere dining experiences," he writes. The building is designed to resemble the hull of a luxury liner.
The Harp in Cleveland. The restaurant features Irish specialties and a patio overlooking the shores of Lake Erie.
Looking for a dining experience off the beaten path? Take the ferry to Kelleys Island or visit Put-in-Bay on South Bass Island.
Local Wineries
The Oberlin area is home to several wineries that offer limited menus and music:
Dining at Kendal
Of course, Kendal at Oberlin residents don't have to go far to enjoy nutritious, delicious, locally-grown fare, some of it has been cultivated in our own community garden. We provide dietitian-approved meals in the Fox & Fell or Langston Express dining rooms. Contact us to tour The Kendal at Oberlin.