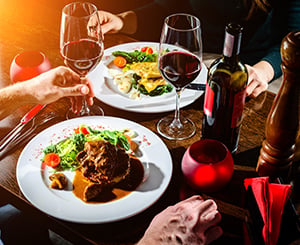 As Valentine's Day approaches, many couples like to find a restaurant with dim lights, candle-lit tables, a vase of fresh roses, maybe a fireplace and other warm touches.
When it comes to romantic dining, a few restaurants in Northeast Ohio top the list year-round. Other restaurants amp up the romantic quotient this time of year. In other words, lots of choices for couples who want to eat out on Feb. 14, a Thursday this year, or the weekend before or after.
Don't Wait to Make Reservations
OpenTable —a hub connecting restaurants and their patrons— put three restaurants in Northeast Ohio on their '100 Most Romantic Restaurants in America.
Chez Francois in Vermilion. The French restaurant ("sophisticated, romantic, elegant and old-world charm are just a few words that describe our main dining room") overlooks the Vermilion River and is known for its seasonal menus and extensive wine list. For Valentine's Day, the restaurant and its upstairs Touche is featuring a special menu that includes a choice of Char-Grilled Ōra King Salmon Filet Roasted Maple Leaf Farm Duck Breast or Char-Grilled Filet Mignon, plus salad, hors-d'oeuvres and desserts. ($85 per person.)

Pier W in Lakewood. Here's how the restaurant describes its venue: "Perched high on a cliff overlooking Lake Erie this 'romantic' Lakewood 'classic' boasts 'breathtaking city views' but is 'impressive on all counts' from the 'artistically presented' seafood to a staff that would 'walk on water for you if it could,' renovations have turned this 'old sailing ship into a sleek ocean liner' so 'try to get a window table' and then 'stay for sunset.'" Probably too late to get a dinner reservation for Feb. 14 so consider visiting Pier W for lunch or celebrate on the weekend before or after Valentine's Day.

The Bistro at Gervasi Vineyard in Canton. The upscale Italian restaurant features a wide selection of small and large plate portions, antipasti, pastas, desserts (including handmade gelato cake) and cocktails. Celebrate on Sunday and enjoy the multi-course lasagna dinner ($17 per person, 2 guests required.)
You may also like: Romantic Getaways >>>
A Romantic Dinner at Other Restaurants
How about adding classical music to the Valentine mix? The Cleveland Orchestra is featuring Romantic Mozart concerts Feb. 14-17 in Severance Hall. Severance Restaurant is operated by Marigold Catering and features contemporary American cuisine in an elegant setting. You can dine before the concert or, post-concert, head to the Opus Lounge for cocktails and small plates.
The Cork Tree Tavern in Amherst is making Valentine's Day a three-day celebration. A four-course dinner with selected wines on Valentine's Day, Friday or Saturday is $125 per couple. Described as a "fun upbeat wine bar that focuses on Italian inspired dishes served in a reimagined, contemporary way," the Cork Tree is located in downtown Amherst at 209 S. Main St.
Jackalope Lakeside in downtown Lorain features Surf and Turf, Lake Erie perch and more. The restaurant is located in Spitzer Lakeside Marina and overlooks Lake Erie.
Zinc Brasserie in Sandusky features French-inspired cuisine and extensive wine list. Its new location is 215 E. Water St. in downtown Sandusky.
DIY Romantic Meal
Maybe you'd rather stay home and enjoy a romantic meal with your own candles, flowers and the like. Harry&David, which started out delivering pears and other fruits, now delivers lots of other foods, including Valentine's Day dinners. Choose from Filet Mignon, Lobster, Lamb Shank, Smoke Salmon and other dinners. You can also order chocolates (heart-shaped and other) and flowers.
Speaking of chocolate, for some couples that's all they want on Valentine's Day. Brummer's in Vermilion sells chocolate-covered (dark and milk) strawberries and raspberries and more, including a variety of assorted chocolates in heart-shaped boxes. Gibson's Bakery in Oberlin also offers a variety of chocolate-covered fruits for the holiday.
Godiva ships almost 150 different chocolate items for Valentine's Day, but don't wait until the last minute if you want to enjoy the sweet treats on Feb. 14.
Take some time to connect with your significant other this Valentine's Day. Intimacy is a vital part of life, no matter our age. As Terri Clark says in her article, "The Circles of Sexuality and Aging", "As we age, our desire for sex may diminish, but our need for caring, comforting and intimate touch is as strong as ever. There are incredible emotional and physical health benefits that come from touch, suggesting that touch is truly fundamental to human communication, bonding, and health."
To learn more about intimacy and the aging process, download our free white paper, "Aging and Sexuality."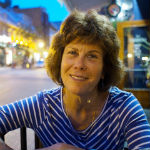 In the past, Molly Kavanaugh frequently wrote about Kendal at Oberlin for the Cleveland Plain Dealer, where she was a reporter for 16 years. Now we are happy to have her writing for the Kendal at Oberlin Community.