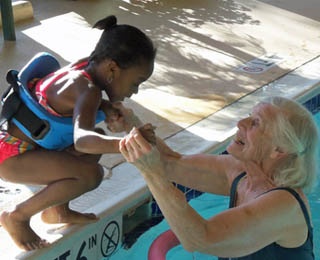 The dog days of summer are upon us, which is the perfect time to get out and enjoy the sultry sunny days and easy-going evenings with your favorite younger friend, whether she or he is a grandchild, neighbor or college-age friend.
There are lots of activities to choose from, both indoors and out, and the possibilities are only limited by your combined creativity, adventurous spirit and, of course, time and money.
Let's Start Outside
In this part of the country, nothing quite says summer like swimming, whether it's in a lake or pool. That said, one of the benefits of heading to a nearby watering hole is that both of you don't have to actually swim, get wet or even put on a bathing suit to have fun. (You know who you are!)
Sitting on the beach or poolside with a book and snacks is relaxing and conducive to free-flowing conversations you might not experience elsewhere. There's just something about sun, water, the smell of sunscreen (at least SPF 30), being barefoot, reclining, and the sound of playful children to lighten up and laugh.
Feeling more adventurous? How about spending a night (or two) sleeping outdoors. Sleeping in a tent may sound too rustic, but add an air mattress or cot for a more comfortable slumber. If a tent still is not in the picture, consider renting a recreational vehicle or reserving a cabin in a park. You can put your own trip together, or join an organized program geared to intergenerational campers, such as Road Scholars.
"A slightly different type of grandparent camp is offered at some universities. Typically these two or three day camps allow grandparents and grandchildren to sleep in university housing, take classes together and visit neighboring attractions," according to Susan Adcox, who writes about grandparent issues for About Parenting website.
Fresh Foods and Flowers
These days visiting a farmer's market is easy and entertaining. Many cities, small and large, have joined in the movement of selling locally grown fresh foods, so you often don't have to drive to the country.
Along with fresh produce, honey, baked goods and the like, many markets also sell locally made arts and crafts and feature music, face painting and other entertainment.
The list of farmers markets is long. Some are open daily, others weekly.
Maybe you and your younger companion just want to zero in on your favorite produce, like blueberries or peaches, and pick your own. The picking might take some energy, but this website makes it easy to find a spot, near or far. PickYourOwn.org also lists fruit and vegetable themed festivals that offer fun and foods for all ages.
Summer is also the perfect time to visit publicly maintained gardens. Three that are popular in northern Ohio are the:
Cleveland Botanical Garden in University Circle, featuring 11 outdoor gardens;
Schedel Arboretum and Gardens in Elmore, featuring Japanese plants and trees and other exotics;
Schoepfle Garden in Birmingham, featuring 70 acres of botanical gardens along the Vermilion River.
Let's Head Indoors
Now that you have a basket of berries, why not head to the kitchen and cook one of your favorite recipes? Or better yet, have your grandchild or young friend find a recipe he or she would like to make and eat – even if the main ingredient is chocolate instead of fruit.
Intergenerational cooking is not just fun, it can also be enlightening and educational.
"Food is a powerful social medium. Through the simple act of cooking together, young and old participants are likely to learn that they have much in common and much to talk about," explains PennState Extension.
You can keep it simple — an afternoon in the kitchen whipping up an easy dessert — or turn it into a daylong affair creating an ethnic meal from scratch. Whatever you choose, make sure "fun" is a main ingredient.
Across the country, adults are picking up colored pencils, markers and crayons, excited to once again turn a blank page into a colorful creation. Why not share your coloring book and tools with your youngster, and see what you both can create? Of course, your companion might just want to stick with his or her own book.
Whatever works, the important thing is to do it together.
Or pull out a deck of cards, dominoes, chess, a board game — yours or theirs — and start a friendly "tournament," playing repeated games over several days or throughout the summer.
Another stimulating summer activity is to teach your young relative or friend a skill or hobby they are interested in learning. Knitting? Photography? Gardening? Stargazing? Sailing? Brainstorm together, then head out to buy a few basic tools of the desired trade to get started.
Maybe you both can embark on a volunteer project together. Suggestions include sorting food at the local food pantry, assisting at a 5K or other charitable fundraiser or walking dogs at the animal shelter. Be sure to check with the agency first for any age requirements.
Whether your time together is short or long, keep in mind the value for both of you in experiencing a slice of life together.
Career expert Marc Freedman says that within families, interdependence has never been greater.
"Recent Pew Research polling found 'no indication' of brewing strife between young and old. To the contrary, the Pew researchers concluded that 'generational conflict ranks at the bottom of a list of potential group conflicts in the U.S.' That's no surprise when we're witnessing a dramatic increase in the number of 20- to 34-year-olds who share a home with their parents and with grandparents contributing in myriad ways to the lives of their children — and their children's children," he writes for Next Avenue.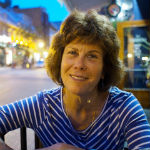 In the past, Molly Kavanaugh frequently wrote about Kendal at Oberlin for the Cleveland Plain Dealer, where she was a reporter for 16 years. Now we are happy to have her writing for the Kendal at Oberlin Community.