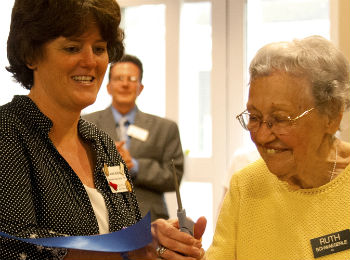 Kendal at Oberlin is a community where residents have a prominent role in programming, governance, and supportive services. This resident-driven philosophy is a positive benefit to the community as a whole and to each individual who makes the decision to call Kendal home.
What Does it Mean to be Resident-Driven?
At first glance, Kendal may appear like many other retirement communities. There are daily activities, social opportunities and private spaces where residents can have quiet time for personal reflection. What sets Kendal apart is that the residents take active roles in shaping the Kendal community and the Oberlin community at large. All residents have a voice.
This encourages a strong sense of community and purpose among Kendal residents. They have a say on a wide range of important issues or serve on any of more than 80 different committees that benefit the needs and diverse interests of Kendal residents.
KORA Council
The Kendal at Oberlin Residents Association (KORA) exists to facilitate cooperation between the Board of Directors of Kendal at Oberlin, the staff, the administration and Kendal residents. Kendal residents are all members of KORA and they elect fifteen peers to serve on the Council. KORA is the supporting organization for all of the resident committees.
Committees and Groups
In addition to the KORA Council, residents have the opportunity to participate in any of the more than 80 different committees or subcommittees based on interests, experience, talents and more. There's a committee or group for just about everything.
According to Anne Elder, Chair of the Volunteer Clearing House, which assists in the coordination of volunteer opportunities, "Residents have a purpose!"
The communications committee, for example, also has several subcommittees including:
Audio Announcements. Record announcements and menus for visually impaired residents.
Bulletin Board. Provides and maintains bulletin boards with current information for Kendal residents.
Channel 19. Provides daily PowerPoint presentation and printouts for audio announcements.
The Kendalight. A monthly newsletter relaying news of interesting and important information for the community.
Other committees represent the diverse interests of the Kendal community, including committees for the following:
Food Committee
French, Spanish and German Language Committees Foreign and Documentary Films Committee
Horticulture Committee
Jazz Listening Committee
Kendal Resale Shop
Science Discussion Group
Pet Concerns
Drama Circle
Library Committee
Flower Arrangement
News and Views
Environmental Concerns Committee
Fitness and Health Committee
Transportation Committee
Woodshop Committee
Website Committee
And more
As you can see, there are many differing interests represented in the committees available to residents. Plus, there are abundant opportunities for residents to suggest or recommend other group activities along the way or as interests grow.
It only takes a quick look at the calendar for Kendal at Oberlin (posted on the resident-operated website) to see that there are many activities for residents to enjoy on any given day. Many of these activities are the direct result of the efforts of KORA committees residents serve on.
A strong community is one in which citizens not only reside, but also take active roles in shaping. That is the philosophy that makes Kendal at Oberlin so special to residents, staff and the greater Oberlin community.