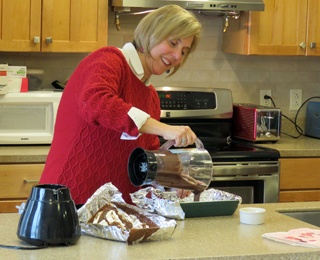 Almonds. Blueberries. Chickpeas.
Not sure if there is a healthy heart food for each letter of the alphabet, but there are certainly dozens of foods available in grocery stores and restaurants that promote cardiovascular fitness.
At Kendal at Oberlin, registered dietitian Sue Campbell makes sure a variety of heart healthy foods are on the menu daily for residents. She works closely with Chef Scott Stonestreet and residents to make sure meals are both healthy and tasty. They choose fresh and frozen foods, dried beans (not canned) and low sodium when available.
"There are a lot of local vendors available, especially here in Oberlin with a year-round farmer's market," Sue says.
What's for Dinner?
Favorites at the retirement community include salmon, such as Soy Salmon with Cilantro Coconut Chutney, low-fat yogurt parfait with fresh fruit and roasted squash.
When Cleveland Clinic Dr. Caldwell Esselstyn, Jr. and his wife Ann visited the Kendal campus, they were so impressed with assistant chef Wayne Jacob's vegan "Corn and Shallot Soup" that they included the recipe in "The Prevent and Reverse Heart Disease Cookbook."
Salad bars are a Kendal mainstay at both lunch and dinner. Greens vary at the bar and in dishes, and include kale, Swiss chard, spinach, arugula and hydroponic lettuce from local Tyler's Farm.
A healthy vegetarian entrée is always available at dinner. Quinoa Black Bean Chili is popular with residents.
Also always on the menu are hard-boiled eggs, which are high in protein and maybe not quite as bad as once thought for your heart. A recent Swedish study found that eating eggs occasionally (six times or less a week) does not pose a risk for heart disease.
"This should not give anyone license to eat as many eggs as they want," cautions Alice H. Lichtenstein, executive editor of the Tufts University Health & Nutrition Letter. "What the data does suggest is that for most people a couple of eggs every other day, without their frequent partners, bacon or sausage, can be enjoyed. The qualification is some people are very sensitive to dietary cholesterol, so those individuals need to check with their doctor before making a change in their diet."
Snacks that are Safe
Almonds, walnuts, cashews and other nuts are high in omega-3 fatty acids, critical to your body's function and shown to reduce your risk for heart disease.
"Only eat a handful because they are high in calories, and choose unsalted nuts if you have high blood pressure," Campbell advises.
Berries are very good. "Berries are loaded with polyphenols -- antioxidants that mop up damage-causing free radicals in your body. They also deliver fiber and vitamin C, which are both linked to a lower risk of stroke," according to WebMD.
Choose from raspberries, strawberries, cranberries, blackberries and blueberries, fresh, frozen or dried.
Nibble on veggies, such as carrot sticks and peppers, especially red, yellow or orange.
What about Sweets?
Good news. A study published last year in the medical journal Heart found that 17.4 percent of those who didn't eat chocolate developed or died of cardiovascular disease, compared to 12 percent who consumed the most chocolate. The study followed nearly 21,000 Norfolk, England residents for 11 years.
Most experts recommend dark chocolate, with at least 70 percent cocoa. Dip strawberries in the melted chocolate and get even more of a health boost.
And while no one is claiming that ice cream is good for your heart, physically speaking, it just might enhance your emotional well-being.
"Researchers out of the Institute of Psychiatry in London tracked the brain activity of people eating vanilla ice cream. As soon as the participants swallowed ice cream, they saw an immediate effect on an area of the brain called the orbitofrontal cortex, a pleasure center that activates when people enjoy themselves," according to DoctorOz.com.
That might explain why Kendal residents are such a happy bunch: ice cream, available lunch and dinner, is by far the most popular dessert on campus.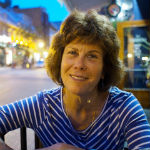 Molly Kavanaugh frequently wrote about Kendal at Oberlin for the Cleveland Plain Dealer, where she was a reporter for 16 years.