Published: July 27, 2022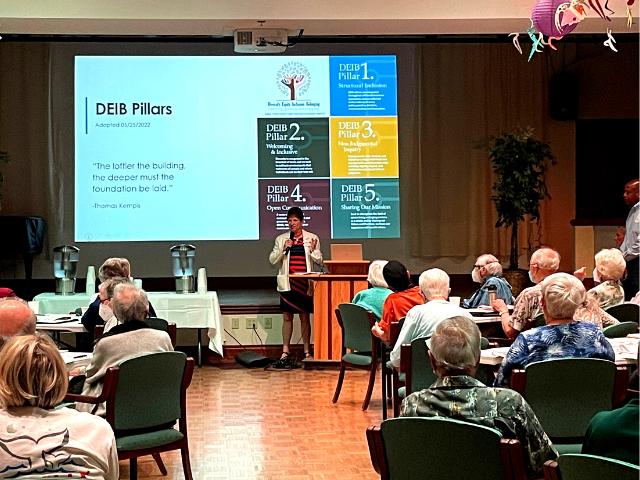 Kendal at Oberlin, and Kendal Corporation's other affiliates are independent and not part of, or sponsored by any religious or social institution, but they were founded and continue to grow with intentional regard for the principles of the Religious Society of Friends, also known as Quakers. Throughout 2022 we will explore Kendal "Values and Practices" and how they guide community life at Kendal at Oberlin.
Since its inception nearly 30 years ago Kendal at Oberlin has been a welcoming community, embracing residents and staff regardless of race, color, gender, sexual orientation, religion and national origin. But like many thoughtful and progressive organizations, Kendal has made a renewed commitment to reach higher and do more.
"We believe in a diverse community where inclusion rather than 'fit' is the guiding principle," states Kendal in its 2022-2026 Strategic Plan. One of its seven goals is to "assure Kendal at Oberlin is a community that demonstrates commitments to Diversity, Equity, Inclusion and Belonging in its actions and its communications."
First of many gatherings
In June, nearly 50 Kendal residents and staff gathered for a workshop that focused on how the community can do more to promote and practice Diversity, Equity, Inclusion and Belonging (DEIB). The Oberlin workshop was an outgrowth of Kendal Corporations "Welcoming Diversity" program, which is based on five pillars:
Structural Inclusion (DEIB efforts are integrated throughout all Kendal business operations and are reflected in the makeup of every policy, practice, decision, communication and interaction.)
Welcoming & Inclusive (Diversity is recognized in the broadest of terms and we look to cultivate environments that welcomes all people and where individuals can be their true self.)
Non-Judgmental Inquiry (Each person is seen, treated, and valued as a unique individual and we approach each interaction with curiosity, dignity, respect, and seeking to understand without judgment.)
Open Communication (A sense of integrity and community is prioritized and preserved through clear, direct, respectful and open communication.)
Sharing Our Mission (Seek to strengthen the field of senior living and aging services as a whole and by sharing our Values and Practices, we hope our experience will benefit others.)
Kim Preston, Kendal at Oberlin's Director for Community Outreach, is heading up Kendal's new DEIB Committee. She explains:
"Many residents, staff, and board members will be involved in reaching our Diversity, Equity, Inclusion, Belonging strategic goals. We are in the process of inviting community to learn about our DEIB goals and to discern which area/areas they feel called to engage in. There will be a much broader 'committee' than our former diversity committee – and there will be many who are 'supporters' who may not be participating in meetings, but are passionate about helping us reach our goals. Areas of engagement will include Education & Training for staff and residents, Workforce Development (accessibility and building career path options for employees), Communications, Programming, Outreach and Community, and Transportation."
More Kendal DEIB actions and initiatives
Four years ago during June's LGBT Pride Month Kendal residents announced the formation of LGBTQ+A (Lesbian Gay Bisexual Transgender Queer Plus Allies) Interest Group, an awareness, advocacy and support group for lesbian, gay, bisexual, transgender and other gender non-conforming residents, staff and allies at Kendal at Oberlin. The group was also formed to join with others in the City of Oberlin, Lorain County and Oberlin College to advocate for LGBT+ and other gender non-conforming persons.
The interest group has sponsored gay-themed movies, added books to Kendal library's LGBTA+ collection and organized small-group discussion groups and educational programs.
To achieve the DEIB goals outlined in the 2022-2026 Strategic Plan, Kendal plans to:
Provide ongoing education in Diversity, Equity, and Inclusion principles for staff and residents;
Promote awareness of Kendal's practices and messaging to ensure staff and residents understand this commitment to Diversity, Equity, and Inclusion;
Increase accessibility, including affordability, in pursuing opportunities for new prospective residents, new program development, community partnerships, and access to Kendal amenities;
Strengthen outreach to the larger community to communicate that residents and staff are engaged in achieving Kendal at Oberlin goals in Diversity, Equity, and Inclusion.
Learn More About Kendal at Oberlin – A Vibrant Community for Older Adults
---
Are you making plans for your future? Kendal at Oberlin offers an active lifestyle with opportunities for lifelong learning, art and culture.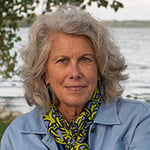 In the past, Molly Kavanaugh frequently wrote about Kendal at Oberlin for the Cleveland Plain Dealer, where she was a reporter for 16 years. Now we are happy to have her writing for the Kendal at Oberlin Community.
About Kendal at Oberlin: Kendal is a nonprofit life plan community serving older adults in northeast Ohio. Located about one mile from Oberlin College and Conservatory, and about a 40 minute drive from downtown Cleveland, Kendal offers a vibrant resident-led lifestyle with access to music, art and lifelong learning.