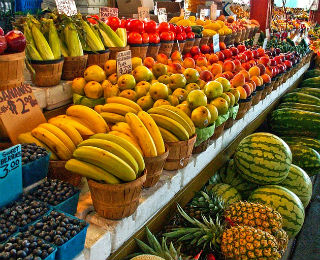 Community farmers' markets have a lot to offer people of all ages within the community. Not only do they present a wide range of fresh fruits and vegetables, but they also offer seasonal flowers and decorations along with a wide range of natural products. In some communities, they even offer things like cheese, wine, honey, baked goods, and farm raised meat and eggs. They also deliver other benefits as well, including these listed below.
Access to Fresh, Local Produce
Local produce, when responsibly farmed, offers many benefits to people and the planet. Fewer carbon emissions are created transporting the goods, and buyers get access to the produce days, if not weeks before they would get vegetables and fruits at the supermarket. This means they're getting fresher vegetables picked at their peak when it comes to both flavor and nutrition. Eating more fresh fruits and vegetables helps to contribute to healthy living.
Socialization Opportunities
Whether held on a Saturday or weekday evening, farmers' markets enable people within the community to get together as they select locally grown produce. It's a great opportunity to bond with lifelong friends, meet new ones and learn about the welcoming people who grow your food.
Cooking Demonstrations Exploring New Ways to Prepare Vegetables
Many farmers' markets offer cooking demonstrations that introduce you not only to new uses for the vegetables you find, but also to new methods of preparing them. Farmers' markets are dedicated to educating the community about the vegetables they sell, and also aid in helping them to develop a new appreciation for the produce, so that more people can incorporate these wonderfully fresh vegetables and fruits into their normal diet.
Supporting the Local Economy by Supporting Farmers in the Community
Local farming is a big part of the economic health of communities throughout the country. That's why you'll see many communities turning to Community Supported Agriculture (CSA) to help support farms and farm operations in the local community. People who pledge support to farms through CSAs become shareholders in the farms – sharing small portions of the risks and the rewards with the farmers. These CSAs help support the farms that provide so much for the thriving community.
Questions to Ask Farmers at Farmers' Markets?
Perhaps the best thing about a farmer's market is that you get the opportunity to appreciate the fruits of the labor directly from the people who grow the food you're buying. This means you can ask questions that are important to you.
Some questions you might consider asking include:
Where was the produce grown?

Were pesticides used in growing the produce?

Are the products organic?
Finding local farmers' markets is easy. In northern Ohio, for example, this list from Cleveland.com provides outstanding information about various area farmers' markets including dates, times, locations and if possible, websites for the farmers' markets. Many local farmers' markets begin in early June.
If you've never experienced the beautiful bounty of a community farmers' market for yourself, now is the perfect time to visit one and see for yourself the benefits it has to offer.
We would love to hear about your last experience at your local farmers' market below!