Published: November 25, 2019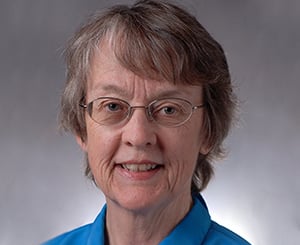 When it comes to family well-being, Kendal resident Linda Bell has worn three hats during her adult life. With a Ph.D. in psychology, Linda is a family researcher and therapist. She's also a wife to David (53 years) and mother to two sons and one daughter.
This year, she added a fourth hat to her expertise. She is the author of two self-published books about emotionally healthy families based on a 40 -year research project: "Creating Love and Respect in Families: From Generation to Generation" and "Lifelong Marriage in the Greatest Generation."
"Healthy families demonstrate both affection and validation, both love and respect for individuality. Children are allowed to express their own ideas and feelings. Love doesn't have to mean agreement," she says.
How the Research Project Evolved
Linda grew up in Austin, Texas, in a family that was a mixed bag when it came to health and happiness. There was love and respect, but also a family secret that created anxiety and repressed anger.
She attended Oberlin College – the first in her family to go to college – and after graduation went into the Peace Corps with David, traveling to Senegal and Liberia. Back home, she pursued a doctorate degree in psychology at Duke University, followed by a post-doctorate fellowship in Chicago.
The couple moved to Texas, where Linda taught in a family therapy program she started at the University of Houston in 1976. "It was one of the first family therapy programs in the country; now there are accredited programs all over the country," she says.
Linda's studies included a lot of information about troubled and dysfunctional families, but she wanted to understand what made "normal" families tick. In the mid-1970s, she put together a sample of 99 homogenous families from one Midwest school district. The families were working- or middle-class, all-white, and had at least two children, one being a teenage girl.
Each family member filled out a true or false questionnaire followed by a family discussion with everyone present.
The children in healthy families generally answered yes to these kinds of questions:
We're allowed to come and go as we want to in our family.
We have a few rules.
We can say what's on our minds.
Children in less healthy families generally answered yes to these kinds of questions:
We have to keep our rooms neat.
Sometimes we hit each other.
We can't get away with anything in our family.
Twenty-five years later, Linda revisited the families, now with adult children who had children of their own. She found a continuity of health (and unhealth) in the second generation, with children from healthy families more confident they had the tools to handle conflict.
Her research also included 62 families from Japan, where her family lived for two years and found similar research results.
"In Japan, there was more of a focus on having a warm, loving, caring atmosphere, and in the United States more on respect for individuation, which means allowing everyone to be their own individual," she says.

You may also enjoy: Intergenerational relationships flourish in Kendal dining room >>


Linda's Busy Life Post-Research
Linda now works as a counselor for an online therapy site called BetterHelp. "A lot more people can get into therapy this way and it's cheaper," she says.
Along with selling her books on Amazon, she is marketing them as supplemental college textbooks. In February, she gave a lecture at Kendal about her research and family therapy.
Speaking of which, she stays busy with Kendal activities too, including swimming, strength training and Supporting Friends (a group that supports residents in the Stephens Care Center). She is also a member of the Quaker community.
One of her treasures is a videotape of her young family, who took the quiz and discussed the results just as her research families did.
"I've thought of sending it to my kids for Christmas," she says.
(And yes, the Bell family scored relatively high in healthy traits.)
Improving Your Relationships Through Emotional Wellness
Having a strong, healthy relationship with friends and family can boost your emotional wellness - and having strong emotional wellness can improve your relationships.
Learn more about taking control of your own emotional well-being by downloading our free guide. You'll get answers to questions like:
Is my happiness really a choice?
What are the ways I can be happier in my day-to-day life?
Do I have a greater risk of depression as I get older?
Take Control of Your Emotional Wellness and Find Happiness!
---
Roughly 40 percent of a person's happiness is determined by intentional behavior. Take control of your happiness with our 'Emotional Wellness' guide.

In the past, Molly Kavanaugh frequently wrote about Kendal at Oberlin for the Cleveland Plain Dealer, where she was a reporter for 16 years. Now we are happy to have her writing for the Kendal at Oberlin Community.