Published: May 3, 2019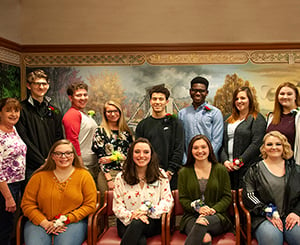 Brendan Ortiz started working at Kendal in the dining rooms when he was a freshman at Oberlin High School. During the past four years he says he learned not just time management and responsibility, but also what life is like at Kendal.
"There is such a home feeling here and a sense of community," says Brendan, during a recent reception at Kendal to honor all 15 graduating high school seniors.
At the reception, dozens of residents gathered to wish the students well, met their families and took photographs.
"We always look forward to this reception, so we can tell their families how great they are. It's really wonderful to watch the students develop," resident Robert Taylor says.
For Ann Pilisy, Catering and Dining Manager ("and the students' boss, den mother and cheerleader," Robert adds) the reception serves another purpose. "I look to hire siblings," she says.
Related: Appreciating Generational Differences>>
The ABCs of Working at Kendal
Ann gets "tons of applications" for the part-time positions in Kendal's three dining rooms. Once hired, she stresses the importance of speaking up, making good eye contact, dressing appropriately and showing up on time.
"Don't call residents 'you guys,'" she reminds them, and no Mr., Mrs. and Ms. – everyone at Kendal goes by first name.
She likes to hire students who are involved in school and community activities (you should see some of the student resumes) and alters schedules to accommodate their activities.
During prom season, many of the students stop by Kendal in formal attire with their dates to greet residents and staff members. Once off to college they stay in touch, stopping by during school breaks to visit, and sometimes to work. Some students even go on to careers in the field of aging services.
Former server Dominique Hughes is now a gerontologist, works for the Western Reserve Area Agency on Aging, and serves on the Kendal Board of Directors. Jessica Moore is currently an administrator-in-training at Kendal. Both worked as servers here in their high school days. By the way, Jessica just graduated with her Bachelors degree and will be continuing on as a scholarship student at Youngstown State University, working towards her Masters degree in gerontology.
Students Have The Last Word
Thayer Preston is a familiar face at Kendal as he attended the Early Learning Center. His mother, Kim, works in social services. His father, Dale, is often on campus taking photographs and has done so since his sophomore year.
"Kendal has been a great experience for me. All the residents have been so welcoming, and I've loved hearing their advice on life and their stories. I feel a part of the big Kendal family," the Oberlin senior says.
Here are comments from the other graduating servers:
Julia Diedrick, Midview High School, "I love the opportunity to get to know and meet new people and residents;"
Jaciah Edwards, Wellington High School, "I enjoy working here and seeing my coworkers every week;"
Genalda Finely, Firelands High School, "I love working here. It's an experience I will never forget. I love being around these amazing residents!"
Madison Flanagan, Firelands High School, "I have really enjoyed working at Kendal. I have gotten to know many residents over the past 1 ½ years. I have also made some really great friends."
Lauren Gienke, Western Reserve High School, "I've enjoyed working with everyone and all the residents. I have learned many things here and everyone is welcoming;"
Willia Holzmiller, Western Reserve High School, "My Kendal experience so far has been great. Kendal definitely has the best staff and residents."
Desirae Henline, JVS/Elyria High School, "My experience at Kendal at Oberlin has been amazing. Working in Langston has given me time to bond and get to know residents. The bond that I have in the Langston with my co-workers is like a family bond;"
Isabella Johnson, Midview High School, "Interesting, but overall a good experience;"
Emily Johnston – Amherst Steele High School, "It was nice working with the residents, I love the people I work with."
Zach Pena, JVS/Amherst Steele High School, "(Kendal has been) a fun place to work and I love talking to residents, Nice social place to work;"
Hannah Pietch – Amherst Steele High School, "It is very fun, I love the residents and my co-workers;"
Sajel Rodriguez, Oberlin High School, "I love coming to work every day and seeing the most wonderful people in the world;"
Inel Washington, Oberlin High School, "I've really enjoyed my experience at Kendal. I've learned so many skills, such as multitasking, and learning to have patience."
See What Makes Us Great
Recognizing the benefits of intergenerational relationships, Kendal at Oberlin fosters them between residents and children, teens, and college students. Statistics and studies have shown how the benefits of intergenerational relationships span the many dimensions of human wellness, from social and emotional to intellectual and physical.
Learn more about our intergenerational programs here.
Young or Old, Big or Small, Intergenerational Relationships Are Good For All!
---
Find out how you can benefit today's youth and how they are helping others like you in our eBook.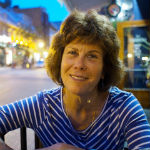 In the past, Molly Kavanaugh frequently wrote about Kendal at Oberlin for the Cleveland Plain Dealer, where she was a reporter for 16 years. Now we are happy to have her writing for the Kendal at Oberlin Community.