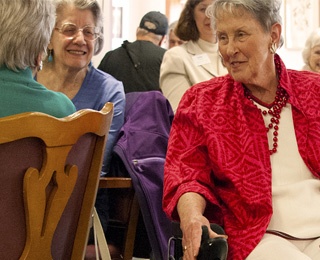 My mother had her end game all figured out.
In her early 70s, she moved to a first-floor condominium, near friends, shopping, doctors, golf, restaurants, church and all the other joys and necessities of the full and active life she was then leading.
The plan worked, until mom's health began to fail in her mid-80s. Modifications were made to the bathroom and other rooms to help her get around safely on a cane, then a walker. She purchased a necklace with a medical alert and paid a woman to clean her condo and help with other household chores. A few times, after a hip fracture and other ailments, she hired private home care. But as mom's overall stamina continued to decline and her ability to safely drive lessened – as it did for her friends – she became isolated and lonely.
The day we visited a continuing care retirement community, snow was forecasted, but no one seemed to care. Residents knew they would be able to get to the bridge game, art class and happy hour safely, and they looked forward to a delicious dinner, minus the cooking and cleaning up.
"I probably should have moved here sooner," my mother finally admitted, after settling into an independent living apartment. That winter, when her health needs became greater, she moved to an assisted living apartment in a building just across the parking lot. As far as moves go, it was done quickly and with ease.
Marketing and admissions staff at life plan communities will tell you they often hear residents and their families regret not making the move sooner.
Here are three reasons why many older adults are reluctant to consider a retirement community as an option.
They Think Staying Put is Cheaper
Many men and women think aging in their current place will cost less than moving to a life plan community.
Not necessarily true, says MyLifeSite blogger Brad Breeding. The cost of making necessary home modifications can add up, along with the general upkeep and maintenance of a house.
"Basic home modifications such installing grab bars, reinforcing rails, replacing dangerous rugs, and putting in better lighting can cost up to $10,000. More extensive modifications such as removing (or reducing the height of) steps, widening hallways, adding a ramp, lowering cabinets or appliances, installing no-step showers, and possibly even installing a generator to protect against power loss--particularly in the extreme summer or winter months--could easily add up to $100,000 or more, depending on the size of the house and whether it is one or two stories," Breeding explains.
In order to stay safely in a house, many older adults hire a home care agency, either on a temporary basis as they recover from an illness, or permanently. Based on several studies, Breeding estimates that between 50 to 70 percent of people over 65 years of age will eventually need significant help with daily tasks and health care.
"The national average cost of in-home care is around $3,800 per month, based on 44 hours of care per week, or around 6 hours per day," he writes. While many seniors may need less assistance, many agencies have a per-visit minimum such as 3 hours.
And then there is the financial cost to caregivers, who are typically family members.
Based on research from MetLife's Mature Market Institute, men and women who become unpaid caregivers for loved ones lose an average of $284,000 to $324,000 in lifetime wages.
MetLife offers a free workbook to help you calculate the costs of aging in your current home.
Too Independent for Community Living
My mom was outgoing and open to new experiences, but she also enjoyed reading and other solitary activities as well as eating meals on her own schedule.
Living in a community with several hundred other residents, communal meals and programs, and the dozens of staff members needed to run such a community can seem daunting to even the most extroverted soul.
You can stay busy and involved, or not, current residents will tell you. Retirement communities offer lots of options, from meal plans (and delis and carry-out) to exercise classes and museum outings. You can try something new, like pottery or table tennis, or meet up with residents who share your fondness for knitting, photography or discussing current events.
But you can stay home alone too.
And don't think you will just be around older people. Many life plan communities, like Kendal at Oberlin, offer intergenerational activities with young people of all ages, from mentoring to musical performances on campus. The Kendal community houses a pre-school and Oberlin College is located just a mile away. Employees are all ages, and often becomes friends too.
Not Going to Need It
Many older adults have a game plan similar to my mother's, and it works out as they planned. But many others find themselves stuck in a house that no longer fits their needs or desires as energy wanes and health needs escalate. Not a good time to start considering a new option.
I wish my mother had considered a retirement community before she got so weak or that we had suggested it as an option. Maybe she wouldn't have moved any sooner, but we could have made smarter decisions along the way about condo renovations and health care. Plus, my mom would have had the energy to visit more communities. Waiting lists, too, can be an issue.
As a footnote, my mother's last conversation was with the night nurse, who checked on her at 3 a.m. to see if she needed anything. "I'm comfortable," Mom said. And we were comforted, too, knowing someone was watching out for her until the end.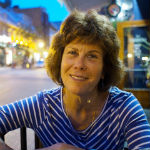 In the past, Molly Kavanaugh frequently wrote about Kendal at Oberlin for the Cleveland Plain Dealer, where she was a reporter for 16 years. Now we are happy to have her writing for the Kendal at Oberlin Community.