Published: October 21, 2019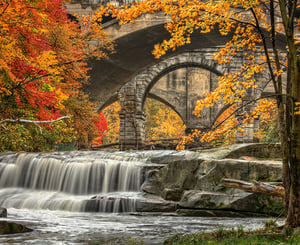 Ohio is not a "leaf-peeper" destination like New England, the Catskills or the Great Smoky Mountains, but we're treated to a couple of colorful foliage weeks starting in mid-October into early November.
"Forecasting fall color is not always easy, as foresters must consider several variables such as sunlight, temperature, wind, and rainfall when calculating the brilliance and longevity of Ohio's autumn color.

"This fall, the ODNR Division of Forestry is expecting color to peak in the northern third of Ohio the fourth week of October, the fifth week of October for the central third, and the first week of November for the southern third," according to the Ohio Department of Natural Resources' first fall color report of 2019.
For updated forecasts, fall foliage driving tours and more, visit http://fallcolor.ohiodnr.gov/.
Tour by Train
Northern Ohio has many ideal spots to check out the fall colors. At the state's only national park, hop aboard a train to enjoy the scenery.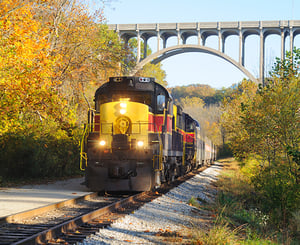 "This relaxing ride aboard Cuyahoga Valley Scenic Railroad is the perfect way to take in the fall foliage," advertises the national park about its two-hour non-stop fall train excursion.
The Fall Flyer runs on Saturdays and Sundays in October. It departs from Rockside Station on Saturdays at 2 p.m. and 5:45 p.m. and from Akron Northside Station on Sundays at 11:30 a.m. and 3:30 p.m.
Tickets are $25-$30 and can be purchased online, at the station 30 minutes prior to departure time, or by calling 1-800-468-4070. Beverages, snacks and merchandise are available for purchase in the concession car.
In Central Ohio, you can hop aboard the Hocking Valley Scenic Railway in Nelsonville for 2-hour fall foliage tours. The tours run Thursday through Sunday until Nov. 3.
Tickets are $11-$18 and can be bought online or by calling 855-32DEPOT. Train-goers can bring food and non-alcoholic beverages onboard (no concession sales are available).
Related: Read more about America's national parks >>
Tour by Foot
Take a fall foliage hike in one of the Lorain County Metro Parks. Guided hikes will be held in French Creek Reservation, Miller Nature Preserve, Vermilion River Reservation and Wellington Reservation.
Cleveland Metroparks offers fall foliage hikes, too:
Huntington Reservation, Oct. 18 at 2 p.m.

Rocky River Reservation, Oct. 19 at 10 a.m.

Brecksville Reservation, Oct. 19 at 10 a.m.

Bedford Reservation, Oct. 19 at 10 a.m.

Garfield Park Reservation, Oct. 19 at 10 a.m.

Hinckley Reservation, Oct. 20 at 1 p.m.

Rocky River Reservation, Oct. 26 at 1 p.m.

North Chagrin Reservation, Oct. 26 at 6:45 p.m. (a night hike geared for small children)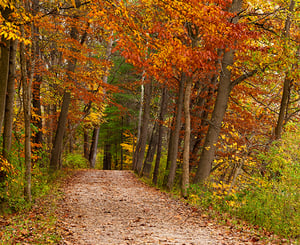 At Holden Arboretum in Kirtland, Ohio, you can walk dozens of feet above the forest floor for a great view of fall colored trees. The Murch Canopy Walk is a 500-feet long elevated walkway built 65 feet above the forest floor, and the Kalberer Emergent Tower takes visitors above the trees to a height of 120 feet.
In southeast Ohio, the state's 2019 Fall Foliage Tour will be held Saturday, Oct. 26 in Hocking State Forest. Along with vibrant colors, the 10 a.m. to 3 p.m. event features sawmill and chainsaw demonstrations, wagon rides through the forest, and bean soup and cornbread.
Tour by Boat
Northern Ohioans are just a short ferry ride to two islands, which quiet down in the fall months. Hop aboard the Jet Express in Port Clinton or Miller Ferry in Catawba and head to Put-in-Bay.
As you boat out onto Lake Erie, look back for a panoramic view of the lakeshore foliage. Once on the island, you can rent a bike or golf cart, see the changing colors around the state park and lighthouse, and head downtown to eat and shop.
Ferries to Kelleys Island are located on Marblehead (Kelleys Island Ferry) and Sandusky (Jet Express). The island also has a state park and glacial grooves, which according to the Chamber of Commerce "are the largest and best accessible example of this geological phenomenon anywhere in the world."
Plan Your Next Adventure
Get tips for planning your next trip to a fun, educational, and exciting destination in our free guide. You'll get suggestions for close-to-home getaways, road trip routes, college towns to visit, and more.
Download the free guide and get started!
Free Guide: Planning Your Next Adventure: Must-Sees and Travel Tips
---
In this guide you'll get 5 close-to-home getaways, 6 college towns you never thought to visit, 10 must-see National Parks, 6 road trips, booking tips and more!


In the past, Molly Kavanaugh frequently wrote about Kendal at Oberlin for the Cleveland Plain Dealer, where she was a reporter for 16 years. Now we are happy to have her writing for the Kendal at Oberlin Community.