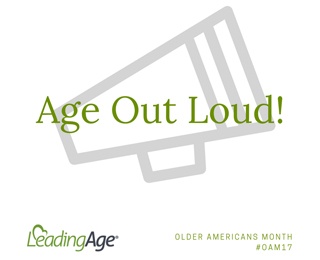 In 1963, when President John F. Kennedy designated May the month to highlight older adults, only 17 million Americans were 65 or older. Today, more than 46 million men and women have reached 65, and by 2060, that population will more than double.
But the swelling number of older adults isn't the only thing that has changed in the past half-century about growing old.
"More than ever before, older Americans are working longer, trying new things, and engaging in their communities. They're taking charge, striving for wellness, focusing on independence, and advocating for themselves and others. What it means to age has changed," proclaims the federal government's Administration for Community Living.
"Age Out Loud" is the theme of this year's Older Americans Month, and here are 3 ways to thrive as you grow older.
#1 Get Healthy, Stay Healthy
Many factors related to healthy aging may be out of our control, but not diet and exercise.
Today, the choices to eat healthy and stay physically active are plentiful, so there is no excuse for not being able to find a program that fits your lifestyle, preference and ability.
Every year, U.S. News & World Report and its expert panel of nutritionists and physicians evaluate and rank the best diets for healthy eating. For the seventh year in a row, DASH has been ranked as the Best Diet Overall, plus number one for healthy eating and diabetes control and tied for first with Ornish Diet for heart disease prevention.
Developed by the National Heart, Lung & Blood Institute, DASH (Dietary Approaches to Stop Hypertension) is rich in fruits, vegetables, whole grains, fish, poultry and beans, and low in sodium, sweets and red meats.
Other top-rated diets in the annual magazine ranking include:
Whatever diet you select, the U.S. Department of Agriculture recommends these tips for older Americans:
Add flavor to foods with spices and herbs instead of salt and look for low-sodium packaged foods.
Add sliced fruits and vegetables to your meals and snacks.
Ask your doctor to suggest other options if the medications you take affect your appetite or change your desire to eat.
Drink 3 cups of fat-free or low-fat milk throughout the day. If you cannot tolerate milk, try small amounts of yogurt, butter milk, hard cheese or lactose-free foods. Drink water instead of sugary drinks.
Consume foods fortified with vitamin B12, such as fortified cereals.
Physical activity can help prevent health problems and promote independence. The Centers for Disease Control and Prevention says people age 65 or older who are generally fit need to engage in a combination of aerobic and muscle-strengthening activities weekly. CDC suggestions include running, walking, lifting weights and yoga.
If you are not sure about your level of fitness, check with your doctor before starting an exercise program.
An exercise program that incorporates balance will also help prevent falls, which is of special concern for older adults. According to the National Council on Aging, 1 in 3 people who are 65 or older fall each year, with falls the leading cause of fatal and non-fatal injuries for older adults.
Other fall preventive measures include a medication review and home safety review to make sure your floor is free of clutter and that you have proper lighting and grab bars.
Keeping your brain healthy is also key to healthy aging. Possible threats or risks to brain health include some medicines or improper use of them; smoking and excessive use of alcohol; poor diet, insufficient sleep; lack of physical activity and social activity.
#2 Keep Learning
Many older adults head back to college, not for another degree but for the joy and stimulation of learning. Audit-only classes are often free, a perk many colleges and universities offer older adults. Shorter and less structured classes are Lifelong Learning programs typically offered by community colleges and geared for people 50 or older.
Other people turn to creative outlets, such as pottery, woodworking, playing piano or dancing. Community and art centers generally offer classes, or check the Directory of Creative Aging Programs.
#3 Give Back
Volunteering is another great way to stay physically and mentally engaged, especially for older adults who "are the most likely to receive greater benefits from volunteering, whether because they are more likely to face higher incidence of illness or because volunteering provides them with physical and social activity and a sense of purpose at a time when their social roles are changing," according to the Corporation for National & Community Service.
The federal agency has put together a helpful checklist of questions to ask before signing up:
Do you have a passion?
How much time can you give?
What do you bring or want to acquire?
Where and how do you want to serve?
Now use your answers to find a volunteer opportunity.
"Age Out Loud"
This year's theme for Older Americans Month emphasizes the ways older adults are living their lives with boldness, confidence, and passion while serving as an inspiration to people of all ages. What are you doing to "Age Out Loud?" Please share in the comments below.
At Kendal at Oberlin, we want to hear your voices. One of our core values is "to value participation, transparency, and consensus building by nurturing careful listening and effective decision making". Discover how our core values influence Kendal's philosophy, staff and residents by requesting information or calling 800-548-9469 or 440-775-0094.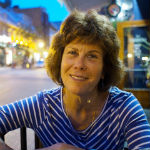 Molly Kavanaugh frequently wrote about Kendal at Oberlin for the Cleveland Plain Dealer, where she was a reporter for 16 years.