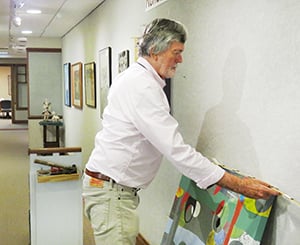 Mary and Tom Van Nortwick have been collecting Japanese woodblock prints since they met in the late 1980s. The couple, 80 prints in tow, arrived at Kendal two years ago, just as the Kendal Collects exhibit was going down.
But there was still good luck for the Van Nortwicks: The exhibit is a biennial event.
The couple contributed the first woodblock print they bought together, purchased during an academic conference in San Francisco, and the last one, bought from an Oberlin collector who was selling prints to fund his daughter's college education.
This year's Kendal Collects is as eclectic as ever. The exhibit, being displayed in Kendal's three galleries until August 19, includes nearly 80 works of art, including oils, watercolors, graphic art, pottery, fiber art, sculptures, photography and collages. In all, 42 residents contributed items from their private collections.
"You can see the intense variety of art people are drawn to," Mary says. "The exhibit has pieces that are whimsical and serious and everything in between. They all hold a kind of beauty, and to me, that is the ultimate reason to collect art."
Related: Kendal is the place for avid art volunteers >>
Van Nortwicks' Love of Japanese Woodblock Prints
When the couple began collecting Japanese woodblock prints they owned a 10-room house and had no problem finding wall space for their art. Now they live in a three-room cottage, so displaying dozens of prints took time and creativity.
"We spent two days just putting up the prints, and we arranged them focusing on color, story, or theme or subject. Now we see them in a completely new way," she says.
The two prints in Kendal Collects were taken from a storage box.
For Mary, the appeal is meditative in nature.
"There's a serenity and tranquility in Japanese woodblock prints that I really don't see in other art. There's a flatness and the way they use paper, so many details and complexion. Each woodblock print has a story and you look at the print and see the story. It's a marvelous meditation," she says.
The couple's favorite artist is Yoshitoshi, who died in 1892 and created many print series. The Nortwicks own about 40 prints from "100 Views of the Moon."
Still, the couple considers themselves "strictly amateurs."
Related: Oberlin College makes a great neighbor >>
Kendal Collects Not New to Katie Brown
"I've been here so long I'll have to start recycling," jokes Katie Brown, who moved to Kendal in 1998 with her husband, John Lott Brown.
John, now deceased, was president of the University of South Florida in the 1980s. The university houses the Graphicstudio, which focuses on research into technical art-making processes and attracted many well-known artists, such as Robert Mapplethorpe and Robert Rauschenberg.
The couple has purchased dozens of pieces but, over the years, have given many away to both family members and art museums. "Some of these things were too big for our places," she says.
For the 2017 Kendal Collects, Katie contributed two gravures: A portrait by Chuck Close and "View of Rome" by Philip Pearlstein.
This year, she contributed a woodblock print by Paul Arnold, an artist who lived at Kendal until his death in 2012. Paul taught art at Oberlin College, chaired its art department, and had exhibits at the Cleveland Institute of Art, Allen Memorial Art Museum and elsewhere.
"He was a lovely man. We went on an Oberlin College tour to Spain and he was one of the speakers," Katie says.
Why Kendal Collects Continues
Even if Katie does have to "recycle" a piece, the exhibit will always be different because of the changing community at Kendal and what other residents decide to contribute. Plus, the Art Committee spends time making sure the art is displayed coherently, so each show is different.
"Kendal Collects shows me how people at Kendal are looking at the world through the art they collect. I love the variety of people and art and activities they represent," Mary says, adding, "I do think it's an important tradition to keep going."
Staying Mentally Active at Kendal at Oberlin
Kendal Collects is just one of the many events going on throughout the year at Kendal at Oberlin.
It's easy to find things to do, new topics to discuss and people to meet on campus. In fact, staying active and learning are two of the key ways we promote overall wellness for people of all ages.
Do you know all the ways to help keep your brain sharp as you age? Get tips for improving your memory, learn about the different types of cognitive decline and more in our free guide, Keeping Your Brain Healthy As You Get Older.