Published: May 16, 2018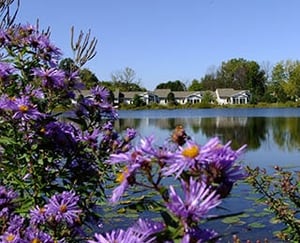 Kendal at Oberlin: 25 Years Strong
That was the headline in a spring Oberlin College Artist Recital Series program, just one of the dozens of ways Kendal and the larger community are celebrating Kendal's 25th anniversary.
"It's always a great joy to come to our concerts and see our Kendal community in force. We are greatly appreciative of your support, your steadfastness, your enthusiasm, not just in your concert attendance, but in all the things that you do to make Oberlin a welcoming and warm, vibrant and creative environment," Andrea Kalyn, Dean of the Conservatory, told the audience, which included dozens of Kendal residents, many attired in anniversary T-shirts and sweatshirts.
Upcoming anniversary celebrations include a talent show and a retrospective exhibit in the three art galleries. The year-long celebration culminates with a festive banquet on October 6, the official opening date in 1993.
In the Early Days
While many of the activities are focused on fun, the 25th has also been a time of reflection.
A dozen Kendal residents and staff gathered in February to talk about the community's early days.
Gretchen Roose, who moved to Kendal when it opened in the fall of 1993, remembers people from the city and Oberlin College helping her husband, Ken, and other residents build the clay tennis courts. Later, community residents returned to play tennis.
The tennis courts set a "welcoming tone" from the start, CEO Barbara Thomas said. "It showed that Kendal was a community in unity with our larger community," she said.
Other examples of how Kendal has collaborated within and with other groups to make a positive impact are abundant.
The gathering went around the table listing many of them:
An Oberlin College student from Lebanon visits resident Ed Schwaegerle to share conversation and offer vision support;
A handful of techy residents troubleshoot other resident technological issues either over the phone or in person;
For the past 15 years, residents have been matched with first-year students at Oberlin College to participate in "Ars Moriendi: Death and the Art of Dying" to talk about living life to its fullest;
The Ninde Scholars Program, started by residents Dick and Nan Ninde, and financially supported by dozens of residents, matches Oberlin high school students who are low income or first-generation college students with college student mentors;
Every holiday season, Kendal and Oberlin residents join together to sing carols and spread holiday cheer in the downtown shops and college buildings;
Kendal and Oberlin residents also came together in the mid-1990s to infuse new life into the city's faltering League of Women Voters.
Kendal at Oberlin's Growth
The community's 25th anniversary celebration has also served as a touchstone to reflect on how the community has changed, and its resilience in facing those changes.
The Jameson House, a 12-bedroom "small house" concept for men and women with mild to moderate cognitive changes, recently opened. A multi-year, campus-wide renovation of cottages and apartments continues. Kendal is seeking to improve housing options for current and future residents.
Technological improvements are ongoing and will increase in all facets of operation - one of five goals outlined in Kendal at Oberlin's 2017-2021 strategic plan.
The plan also recognizes that growing older has changed over the past 25 years. Aging boomers, who were born between 1946 and 1964, have different expectations, interests and needs as they begin to retire, including working beyond normal retirement age. Plus, some of them want to age in place.
Kendal at Home, first offered in Northeast Ohio and now expanding throughout the state and outside of Ohio, provides a life care option for people who want to remain in their longtime home. Some Kendal at Home members are now Kendal residents, and the two organizations have worked together to make that collaboration possible.
"They both share Quaker values. It was really a seamless transition and a great partnership," said Grover Zinn, who moved to Kendal in 2011 with his wife Mary, now deceased.
Barbara Thomas, who joined Kendal a year before it opened, said Kendal will continue to change with the times. "But I have confidence that if we continue to attract the kind of residents we have now, we will be fine," she said.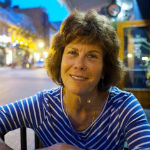 In the past, Molly Kavanaugh frequently wrote about Kendal at Oberlin for the Cleveland Plain Dealer, where she was a reporter for 16 years. Now we are happy to have her writing for the Kendal at Oberlin Community.