Published: July 12, 2023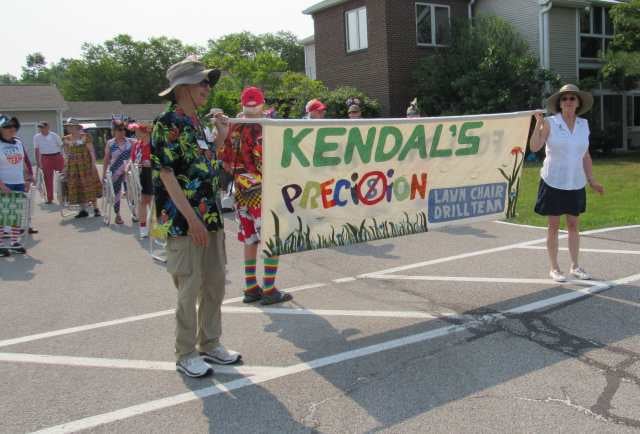 For nearly 30 years Kendal at Oberlin residents and staff have been creating community in ways big and small. As the community prepares to celebrate its 30th birthday this fall, we'll explore how the 110-acre campus, home to hundreds of residents over the years, creates unity at its community. Today, we take a look at traditions, both older and new.

Kendal at Oberlin opened its doors in October 1993 and the following summer just before the Fourth of July a group of residents at dinner lamented that nothing was planned for the upcoming holiday. One resident dared another to organize a parade and she grabbed the baton. A Kendal tradition was born.
Community traditions at Kendal at Oberlin are rich and varied, but there is always room (literally and figuratively) for new traditions to be added as new residents join Kendal with various talents and interests.
Here are just a handful of Kendal traditions that help create community.
Celebrating the Fourth the Kendal way
Over the years, some July 4th festivities at Kendal have changed, others have remained. This year's parade was replaced with a "trike-a-thon", but the ice cream social was in full force after COVID restrictions along with the Lawn Chair Drill Team.
Robert Taylor, who moved to Kendal in 2003, once again delivered his annual address in the Heiser Auditorium. His theme this year, always different, was "America, The Flawed but Still Beautiful." Robert talked about the difficult times our country faces today, with surging racism, bigotry, misogyny, antisemitism, xenophobia and homophobia, and how a community such as Kendal can make positive impact.
"The things we need most in our world and in our lives are generosity of spirit, concern for the wellbeing of others, kindness, tolerance, understanding, inclusion – the offering of a helping hand, a listening ear, a shoulder to lean on, a smile, a hug. Perhaps you recognize that these words exactly describe our miraculous community of Kendal at Oberlin, a unique place in the fullest sense of that word, in that I know of no other like it. A true community – in the best sense of that word, where residents, staff, administration, and Board care about each other, listen to each other, and join together to work for the good of all."
Newer residents often remark that Kendal's July 4th celebration is a welcome change from the typical patriotic red, white and blue events. And thanks to technological advances residents can now watch Fourth of July and other Kendal events from the comfort of their home.
Other seasonal celebrations at Kendal
According to the History of Kendal at Oberlin, "The community's first official winter solstice program took place on December 21, 1995, Kendal's third winter holiday season, drawing on traditions associated with ancient and modern Europe, African American culture, and music and reading from several religions."
Robert is also involved with Winter Solstice, as its producer, and themes changed yearly. Often children from the Kendal Early Learning Center and residents from the Stephens Care Center participate, and the evening always ends with holiday sweets.
The event is typically not held on the actual winter solstice because so many residents are out of town on Dec. 21. Spring Fling's date also fluctuates. But both events include plenty of instrumental music, song, dance, other artistic performances along with creative decorations.
"It's hard to conceive of there being this much talent in one place," Robert says.
Thanks to Oberlin College and the conservatory, the larger community is home to so much talent too, and on many occasions students and professors come to Kendal to perform.
One such group is the student percussion ensemble, who visits Kendal most every winter holiday for an annual Sunday afternoon Marimba Christmas concert.
Speaking of Sunday afternoon concerts…
Allowing musicians – and just about anyone else – to visit Kendal came to a halt in March 2020 because of COVID.
To keep music alive at Kendal, resident Larry Mirel organized a series of informal outdoor performances on Sunday afternoons by Kendal resident musicians, of whom there are many. Once the COVID restrictions were gradually lifted, starting in December 2021, the Sunday afternoon concerts were continued, but now with the addition of Oberlin students and faculty members.
Now when school is in session there is a live concert most Sunday afternoons in Heiser Auditorium. One Sunday each month is reserved for performances by Kendal residents, the other Sundays feature soloists and chamber groups from the Oberlin Conservatory (and occasionally from Oberlin College), usually students but sometimes faculty members as well.
"The concert series has become popular with Kendal residents, who appreciate the musical talent and high level of playing by Oberlin musicians. But it has also proven to be of great interest to the students, who are always looking for audiences. This new tradition is really a win-win for everyone," Larry says.
Also new at Kendal is Bel Canto, a handbell choir for independent living residents that was started in March 2022. The group of twelve ringers practice once a week at nearby First Church, using the church's bells, music, gloves and tables.
Along with occasional performances at First Church, Bel Canto has also performed at Kendal's Winter Solstice and Spring Fling.
The group was started by newish Kendal resident Betsy Allen, who has many years of handbell ringing experience.
"Ringing handbells is unlike playing any other musical instrument because one must play in exact rhythm and style as the other players. Alone, each player has only two notes. Together, they can play beautiful music," Betsy says.
Revival of Lawn Chair Drill Team
Kendal's Lawn Chair Drill Team began in 2004, inspired by residents Ben and Pam Lenz whose daughter told them about a Patriot's Day parade in Rockport, Massachusetts that included such a routine. The creator of the Rockport show shared original routines with Kendal residents, some which were rejected.
"Walking backward or spinning chairs overhead would overload both our Care Center and the local osteopaths," said Ben Lenz in an earlier interview. Ben died in 2015 and Pam helped out with announcements until earlier this year.
Don Parker took over in 2012, and Dick Hazelton is now the recorder. The current repertoire includes a couple of numbers from the first program along with original routines, all set to familiar tunes that most people know or catch onto quickly.
"Participation waxes and wanes depending on how many new residents join vs how many participants age out or develop physical limitations and drop out. We're currently experiencing a revival of interest with 42 people on our contact list and anywhere from 16 to 24 showing up for practice and performance," Don says.
Lawn chairs are donated from people who enter Kendal and find they have no room to store lawn chairs. Don's wife Joyce re-webbed a couple of chairs some years ago but they're hoping the Wood Shop workers might take over that project.
"Right now, we seem to have enough good chairs to go around," Don says.
The Lawn Chair Drill Team always marches in the Oberlin Big Parade (missing only the first year of the pandemic) and Kendal's Fourth of July parade.
---
A Guide to Oberlin, Ohio Dining, Shopping, and Attractions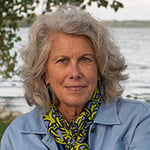 In the past, Molly Kavanaugh frequently wrote about Kendal at Oberlin for the Cleveland Plain Dealer, where she was a reporter for 16 years. Now we are happy to have her writing for the Kendal at Oberlin Community.
About Kendal at Oberlin: Kendal is a nonprofit life plan community serving older adults in northeast Ohio. Located about one mile from Oberlin College and Conservatory, and about a 40 minute drive from downtown Cleveland, Kendal offers a vibrant resident-led lifestyle with access to music, art and lifelong learning.