Published: July 25, 2019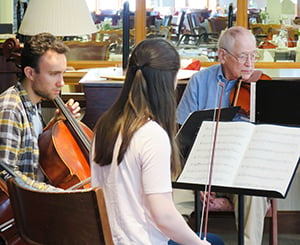 With a world-renowned Conservatory of Music that offers more than 500 performances annually, Oberlin is a popular destination for music lovers of all ages and sensibilities.
Turns out Kendal at Oberlin is a musical mecca of sorts, too. The life plan community attracts men and women who have played music at various levels throughout their lives and want to continue doing so in their retirement years, often alongside college students, as well as "lifelong learners" ready to tackle a musical instrument.
On any day you can walk around the 100+-acre campus and hear sing-alongs, courtyard garden concerts, conservatory student recitals, and formal and informal gatherings of residents playing piano, violin, bells, and other instruments.
Kendal's Music Committee presents more than 50 programs each year in Heiser Auditorium, featuring students and faculty from the conservatory, the Greater Cleveland area, touring artists and Kendal residents.
"Music makes the world go 'round," the committee claims. Music also makes Kendal spin.
New Resident "Falls" into a Musical Crowd
A month after D.C. lawyer Larry Mirel arrived at Kendal, he was on stage playing his beloved clarinet as part of the annual winter solstice program.
"Suddenly I was a clarinet player; it was great fun," says Larry, who moved to Kendal in November 2018 with his wife Betsy.
Since then he has "fallen into a crowd" of other Kendal musicians who play in cottages and at Kendal gatherings. During this year's commencement weekend, a handful of college students joined Larry and other residents for three chamber music performances held simultaneously on the Kendal campus.
"It was very successful. We enjoyed it and the students enjoyed it," Larry says.
Now Larry is working with Kendal's Marketing Department to put together a student/resident musical performance for the annual fall Priority List luncheon, geared toward people interested in moving to Kendal.
"I knew that [by] moving to Kendal I'd have lots of opportunities to listen to music, but I'm surprised at all the opportunities to play – and I'm delighted by that," Larry says.
Larry started playing clarinet when he was seven and continued to play through college, both at Oberlin and Columbia Law School. But like many other amateur musicians, Larry was busy with the demands of work and home and often had little time to play with others.
On New Year's Day, though, Larry would gather at a cellist's home to play with other musicians. (By the way, the cellist is visiting Kendal next month, which could mean an impromptu gathering.)
Larry also attended the fall rehearsals of the Oberlin Orchestra – that's three times a week, two hours a day. "I sat in the balcony of Finney Chapel and usually was the only one there. I'll probably do it again," he says.
Related: Kendal is the place for avid art volunteers >>
"For the Love of It"
Like the Mirels, Tom and Michi Morgan were attracted to Kendal because of its proximity to the conservatory. Tom plays violin and viola, and the couple enjoys attending concerts.
"And I thought there'd probably be musicians at Kendal, and there are," he says.
He's joined the Friday Music Club, a group of amateur musicians who play at Kendal and other local venues, participated in one of the popup concerts as part of the college's "All in for Oberlin" annual fundraising day, organized this year's commencement weekend chamber music concerts at Kendal, and can often be found playing with other residents in his cottage or theirs, or performing in one of the community's public spaces.
"I hesitate to call it 'performance.' It's really reading chamber music. I'm an amateur, which means 'for the love of it,'" he says.
According to family legend, Tom was so mesmerized by the book "One-String Fiddle" that he made a one-string fiddle and played outside his Chicago apartment when he was four or five. One of his neighbors was a retired professional musician who offered to give Tom violin lessons.
Tom played off and on, then fell away from it as his career in computers took off. But Michi missed his playing as much as he did, so she arranged a dinner with another musician, and Tom's musical fire was relit.
At Kendal, Tom figured he would audit classes at the college. But for now, he's got his hands full with playing, attending and organizing musical gatherings with college students, residents, and local musicians. Plus, he co-organizes chamber music weekends at Sleepy Hollow Resort in South Haven, Mich. (and has recruited Kendal residents to attend).
"I'm always recruiting," he says. Tom was the coordinator of Kendal's July 4th extravaganza this year and tapped resident Bruce Richards to play trombone for the parade. Now, Tom says he's looking for a cellist to round out the upper strings.
You may also enjoy; Inspire your heart with art >>
Other Music-Makers at Kendal
Several months after Jean Slonneger moved to Kendal, she put the word out that she was looking for people interested in playing the recorder. Now Kendal has two groups – Toot Sweet for experienced players and Kendal Woodwinds for novice players. No recorder? No problem; they have extra recorders.
The groups practice twice a month and perform occasionally in the lounge before dinner, for Spring Fling and at other programs. The repertoire is diverse, from Baroque to folk music.
One of the women said the best thing is that it gives her a connection to her grandchildren who also play the instrument, Jean says.
When Bob Randel's wife died in 2016 he decided if he was going to keep her piano he should learn how to use it. Now he's taking lessons at the Oberlin Community Music School, an offshoot of the Conservatory that offers top-notch music and voice lessons to children and adults of all ages (at 95, Bob is the oldest student).
Maybe in a few years he will be ready to play for Kendal residents, but for now, he enjoys his daily two-hour practices.
"I get pleasure in sitting down at the piano, knowing I'm more skillful today than I was a year ago," he says.
Kendal resident and professional folk singer Judy Cook has been taking lessons at the community music school for about four years. "It has been both extremely helpful and thoroughly pleasurable. Eileen Moore has a knack of being able to hear what would make my singing easier and better, and to suggest techniques to effect those changes," Judy says.
Judy continues to tour the United Kingdom, performing Anglo-American songs in clubs, art centers, museums and universities with her roadie husband, Dennis.
At Kendal, Judy started a "Song Swap." Residents gather twice a month to sing and share favorite tunes. Occasionally the couple hosts a student song swap in their cottage.
These are just a few of the musicians - and music lovers - who live at Kendal. It's so easy to enjoy beautiful music here. By the way, one of our resident musicians asked us to mention how much they enjoy welcoming all new residents to the community. But they would be especially happy to meet new neighbors who play bassoon or french horn, to form a complete woodwind quintet. And a cello player would be welcome to fill the only missing part in a string quartet. Does that sound like anyone you know?
Learn More About Life in Oberlin
There's so much to do, see, and enjoy in Oberlin, Ohio, just southwest of Cleveland. From thriving art and music scene to one-of-a-kind restaurants to outdoor escapes, there's truly something for everyone here.


In the past, Molly Kavanaugh frequently wrote about Kendal at Oberlin for the Cleveland Plain Dealer, where she was a reporter for 16 years. Now we are happy to have her writing for the Kendal at Oberlin Community.