Published: February 6, 2023
This blog was originally published in July 2017 and was updated in February 2023.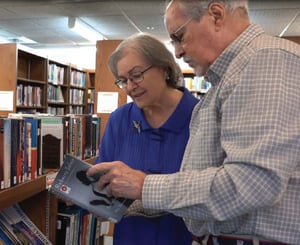 Mary and Thomas Van Nortwick took the first step to becoming Kendal at Oberlin residents when they became Priority Members.
While planning and waiting times vary considerably among prospective residents, the Oberlin couple signed up in 2007. They moved in 2017.
"Being Priority Members offers excellent benefits. And both of us love Oberlin and didn't want to leave, and so early on, we thought Kendal was a very good idea," Mary says.
Why Become a Kendal Priority Member?
"This is the first step in the admissions process and is recommended for anyone giving serious consideration to entering our community," explains Terry Kovach, director of sales and marketing.
Becoming a Priority Member is easy and obligation-free. A person fills out a 2-page informational application, accompanied by a $1,000 deposit and a $200 processing fee ($300 for a couple). The deposit can be refunded at any time or will be applied to the entry fee upon admission.
Two questions are asked on the application to help the marketing staff plan for prospective residents:
What is the approximate year you might want to move to Kendal?

What type of residence(s) interest you?
Kendal homes range from studio apartments to 2-bedroom plus den cottages. There are 225 independent living residences on the campus.
The Priority Membership benefits include:
Access to our Priority Portal, featuring digital room planners, virtual classes, recorded lectures, performances and other programs presented at Kendal;

Access to guest room rental, when available;

Annual Priority Member event at Kendal;

Annual financial updates, such as fee updates and disclosure statements;

Monthly resident newsletter, The Kendalight.

Kendal began to offer Priority Membership several years before the community opened in 1993, and it continues to be a good planning tool for prospective residents. "It's a wonderful way to get to know Kendal," Terry says.
Start your journey with Kendal by viewing the Roadmap to Residency or contact Elisabeth Christman at 440-775-9062.
Visit Kendal at Oberlin
Experience independent living in our vibrant campus community.
The Van Nortwicks' Road to Kendal
The couple has lived in Oberlin since 1965. Both are retired professors – Thomas was an Oberlin College professor of classics and Mary a professor of English and director of Canadian Studies at the University of Akron.
When they became Priority Members, Mary began caring for her mother, who had a stroke and was living in Canada. As her mother's health declined, multiple moves were required.
"That experience certainly confirmed for me how good the Kendal model is," she says.
Kendal is a life plan community offering independent living, assisted living and skilled nursing. The Jameson House, a memory support neighborhood, offers a supportive environment for residents living with cognitive impairment.
In 2011, both Mary and Thomas faced their own health issues. After back surgery, Mary turned to the Kendal pool for deep water walking.
"The half-price membership was a cost saver," says Mary, who continues to use the pool regularly. In addition to the health benefits, the pool has been a great way to nurture old friendships and make new friends, she adds.
Once recovered, the couple decided it was time to get serious about moving to Kendal, and they applied for the Ready List.
This process includes the completion of 3 forms: personal health history (including authorization to obtain medical records); financial statement and personal information.
Once the forms are completed, an on-site admissions interview is scheduled. The interview is an opportunity for applicants to ask questions of staff and learn about Kendal in greater detail.
The Kendal Admissions Committee then reviews the application to see if all the requirements are met. Once approved, people are placed on the Ready List and are contacted when desired housing becomes available.
"The more specific you are in terms of features, the longer you can expect to be on the list," Terry says.
For instance, a resident may want a home with a particular view or a location close to the community center or water features.
The Van Nortwicks turned down a few available residences before finding their ideal cottage in June 2017.
But the time was well spent, Mary says.
Before they moved to Kendal, the couple had eaten many meals in the dining room with old and new friends. Thomas joined the weekly luncheon of retired Oberlin College professors.
They have attended the Silent Auction, Spring Fling and other events. In fact, Mary gave a lecture on the Canadian health care system and taught 3 courses on Canadian writers at Kendal.
They read the Kendalight closely, learning about campus activities and resident interests.
"I'm not moving to a strange place at all," Mary says.
Marketing's Terry Kovach agrees. "You are making social ties before you actually move here and are getting to know the community."
Moving Day Arrives
Mary and Thomas read all about downsizing, including many of the articles published by Kendal, and they were knee-deep in the process.
They moved from a 10-room house to a 2-bedroom cottage and had places lined up for donations – Habitat for Humanity ReStore and Kendal's Resale Shop.
"I've been donating to the Resale Shop for years," she says.
For the Van Nortwicks, who live in Oberlin and could easily take advantage of all the Priority Membership benefits, taking the first step a decade ago and then waiting until their ideal cottage was available, worked for them. Others spend much less time making the move.
Every resident's road to Kendal varies in terms of duration, but becoming a Priority Member is the best way to start for everyone.
"You really look at Kendal in a different way once you become Priority Members," Mary says. "You start to think what it would feel like to live there, and your friends at Kendal start selling it to you."
Why People Hesitate
Some people interested in joining Kendal may be reluctant to become Priority Members because they are uncertain if they can afford to live there. Terry Kovach addresses that concern.
"Our financial requirement for residency asks that people have enough income and assets to cover the cost of living at Kendal through their actuarial life expectancy years. Unfortunately, there is no easy formula that tells us how much that is. There are many variables that have to be considered: size of accommodation, single or double occupancy, long-term care insurance (if applicable), and more.
Kendal at Oberlin offers a very preliminary financial calculator to help people decide if Kendal at Oberlin is likely to be an affordable option. Just answer 7 simple questions, provide your email address, and you can find out if Kendal is likely to be a good financial fit.
Contact Elisabeth in the sales and marketing office at 440-775-9062 for more information about Priority Membership or to schedule a tour. Kendal offers options for both in-person and virtual visits.
Visit Kendal at Oberlin
Experience independent living in our vibrant campus community.