Published: September 4, 2019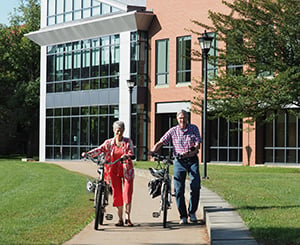 A year ago, Robin Lauren was busy moving out of her Chicago-area home and into Kendal at Oberlin. Now she's busy buying books, highlighters and other school supplies.
This fall, Robin is auditing two academic classes at Oberlin College, taking an art class at Firelands Association for the Visual Arts (FAVA) and a "philosophy of the mind" course through Lorain County Community College's Center for LifeLong Learning. During the spring semester, Robin audited five courses at Oberlin College.
It's no surprise that finding a Life Plan Community with access to a college and other lifelong learning opportunities was "key" for Robin, but not because she wants to pursue another degree (she has three) or change her life.
"I'm looking for it to be an enjoyable experience and it has definitely been positive. Curiosity is what guides me," she says. Her fields of interest include religious studies and art history.
While Robin's course load may be on the heavy side, taking college courses and other classes is certainly popular for older men and women. They have more free time, the cost is nominal (sometimes free, like the audit classes at Oberlin College) and learning is good for you.


Related: Three ways you can embrace lifelong learning >>
The Benefits of Lifelong Learning
According to the Learning Resources Network (LERN), a leading association in lifelong learning, lifelong learning at any age offers many benefits, including:
Longer life ("The research on this is clear. Lifelong learning keeps the brain sharp and active, and that leads to a longer life than would otherwise be the case, all things being equal," said LERN); and
Improved quality of life.
Our personal efforts also contribute to a "knowledge society", the network says:
Upwards of 15 million people a year in the United States and Canada are known to have taken an informal or formal lifelong learning class each year. The rewards of personal and professional development for our advanced societies only strengthen the need and desire of people for lifelong learning, adding to the benefits of personal development, mental health, longer life, changing lives and the next as-yet-undiscovered benefit of lifelong learning.
Studies have also found that lifelong learning can reduce stress, improve memory, prevent isolation and enhance one's overall well-being.
Lifelong Learning at Kendal at Oberlin
Residents at Kendal at Oberlin know about these and other benefits of lifelong learning. In 1993, the community was founded on valuing continuous learning and other Quaker values. Today, 26 years later, residents continue to embrace learning new skills and crafts, acquiring knowledge from books and experiences, and much more.
Some residents teach LCCC's LifeLong Learning courses, held at various locations including Kendal; others participate in language dining tables so they can improve a foreign language (Spanish, German and French); still others are learning how to play the piano and dance, paint and draw, use woodworking tools and weaving looms.
Like Robin, many people choose to move to Kendal at Oberlin in large part because of its proximity to Oberlin College. Kendal is located a mile from the internationally-acclaimed college, its Conservatory of Music and the Allen Memorial Art Museum. These institutions offer an extensive selection of concerts, lectures, classes, films, sports events, drama, and dance and art shows.
And auditing a college class means taking notes and doing homework are optional.
Related: Keeping a healthy mind with lifelong learning >>
"I took my cues from the professor."
Robin says some professors paid little attention to her; others encouraged her to participate and assigned her to discussion groups. "Some of the students completely ignored me, others were friendly. I experienced the full spectrum," she says.
As for notetaking, Robin did so even though she has not gone back to review her notes. And she writes notes by hand rather than using a keyboard because she says studies support the notion that the practice helps comprehension and retention.
So does highlighting hard copy, she says. Even though book materials are available online, Robin often finds inexpensive textbooks on Amazon and buys them because they help her learn.
After all, it is called lifelong learning.
Discover the ABCs of Lifelong Learning
Lifelong learning can take place everywhere - you just need to know where to look. This free guide will help you uncover activities and opportunities that will keep your mind engaged.
Download your copy today and get ready to learn!
Learning in Retirement has Hidden Benefits
---
Find out how Kendal at Oberlin Enriches Retirement!

In the past, Molly Kavanaugh frequently wrote about Kendal at Oberlin for the Cleveland Plain Dealer, where she was a reporter for 16 years. Now we are happy to have her writing for the Kendal at Oberlin Community.