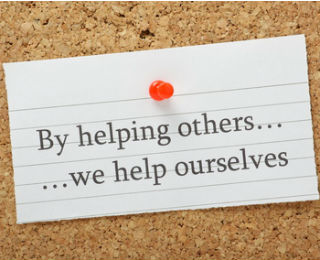 If you want to see Kendal at Oberlin values in action, just take a look at who is leading activities, enjoying fellowship and encouraging each other to learn and grow with lifelong learning. The value of caring for all people and treating them as equals as well as caring for their environment is strongly ingrained in the value of sharing at Kendal.
Our Mission
We practice a philosophy that hasn't changed much in more than 400 years. The Religious Society of Friends, or Quakers, believes we should recognize there is "that of God in everyone." Quakers believe in the equality of all people, as well as peace, simplicity, integrity and community, through which our lives are enhanced by sharing with and caring for others.
Practicing our God-given purpose to be advocates for the vulnerable members of our society is central to Kendal beliefs. As we age in a society that worships youth, we need to be the catalyst of change. At Kendal, we benefit those inside and outside our community by utilizing our residents and members, board and staff to share our resources—our knowledge, time, and talents.
We seek to shape policies and support legislation that protects older adults.
1. By talking with influencers frequently in an effort to change public perception about aging.
2. By actively exploring collaboration with other nonprofits that share this mission, including LeadingAge, as well as state and local organizations.
3. By sharing best practices with other continuing care retirement communities, setting the industry standards. Our processes are accredited and reviewed by our peers.
Going Above and Beyond
Kendal strives to be a place where you can expect to meet the best in every person. Residents and members continue to give their time and talent as volunteers inside and outside the community. Continuing to strive for education and growth, our staff uses their leadership to guide other community organizations to benefit the whole person.
Kendal continues to grow with an unusual generosity to benefit its residents, members and staff. Donors support Kendal's mission of sharing with those in need. Sharing is a type of ministry that benefits all people involved. When we humble ourselves to share with others, we are seeking a life of greater simplicity, equality, justice, peace and stewardship, all principles that contribute to a better world.