Published: July 6, 2022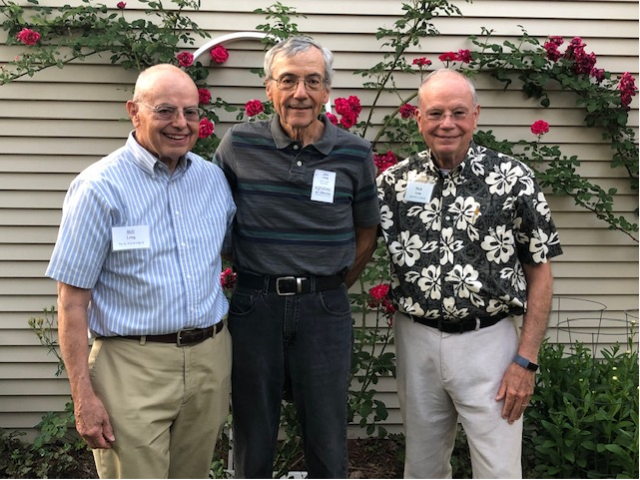 Long brothers, left to right, Bill Long, John Long and Kendal resident Nick Long.
Kendal is home to more than 300 men and women in their 60s and well beyond. They come from near (Oberlin) and far (Hawaii, Canada and elsewhere). The residents share many common values, such as sustainability and lifelong learning, and many have ties to Oberlin College.
But each resident has his or her own unique story, and throughout the year we'll be sharing some of their stories with you.
Today, meet Nick Long.
How did a Master Gardener from Louisiana with zero Oberlin College connections end up moving to Kendal at Oberlin with his wife Lillie?
Mom and dad, that's how.
Nick's parents, Rusty and Janie Long, moved to Kendal in 1999 from Philadelphia. The elder Longs were snowbirds and in their later years Nick and Lillie, who lived in New Orleans, drove them to and from Florida, which meant they got to know many Kendal residents and staff.
The "seed was planted" and when Nick and Lillie retired in 2013 they visited several life plan communities in warmer Louisiana, but "none of them measured up to what was at Kendal."
The couple moved to Kendal in April 2020.
Kendal is also in the cards for Nick's older brother Bill and wife Frankie, who live in Pittsburgh and are currently on Kendal's Ready List. His younger brother John and wife Linda in nearby Brunswick are also considering Kendal.
"During little family reunions at Kendal, we were all thinking about it," says Nick, adding "We got to see firsthand the level of care and kindness."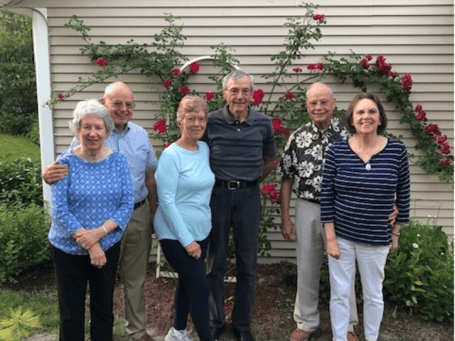 Long brothers with their wives, left to right, Frankie Long, Bill Long, Linda Long, John Long and Kendal residents Nick and Lillie Long.
Planting more seeds
As a Master Gardener, Nick has found lots of places at Kendal to plant, mulch and weed. He has 2 ½ plots in the Community Garden, where he grows flowers and kale, carrots, lettuce and other vegetables, and maintains a flower garden around their cottage. He also helps resident Don Reeves maintain the Center Pond Island and assists Kendal's Grounds with some watering.
During spring he takes advantage of Kendal's greenhouse for seed planting, and he's a member of Kendal's Horticulture Committee.
Yes, he misses year-round gardening, but he has a new hobby for winter months. "That's when I go to the Art Studio," he says.
Both he and Lillie enjoy molding clay, and have learned much about the craft from resident Joyce Parker. "You use some of your creativity to bring out the beauty of the clay," he says.
Lillie is also a volunteer with the Resale Shop. The shop provides an outlet for residents to downsize and discard furniture, clothes and household items no longer needed, and proceeds support the Resident Assistance Fund, assuring that services will continue for residents who may outlive their financial resources.
Now that the pandemic is past
When the Longs moved to Kendal the pandemic was just starting so sharing meals in the dining room, attending Oberlin College concerts and so many other activities were on hiatus. Like many other residents, they made the best of it, gathering outdoors with neighbors for "tea parties" and socially distant activities in the Art Studio, and, of course, gardening.
Despite social distancing and limited activities, the Longs were able to make new friends and rekindle friendships with residents and staff from their many visits over the years. Residents left notes and house-warming gifts and made them feel welcome.
Now they're excited to branch out. They plan to visit the college's Frank Lloyd Wright House and other campus offerings and explore the Greater Cleveland area. So far, they've taken bus trips to the Cleveland Museum of Art and the Toledo Museum of Art.
Traveling is back too for the Longs, with trips planned this year to Maine and Louisiana.
Check Out Our New Gardening Guide:
---
Gardening is a great activity at all ages. Get helpful tips here!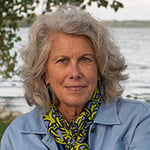 In the past, Molly Kavanaugh frequently wrote about Kendal at Oberlin for the Cleveland Plain Dealer, where she was a reporter for 16 years. Now we are happy to have her writing for the Kendal at Oberlin Community.
About Kendal at Oberlin: Kendal is a nonprofit life plan community serving older adults in northeast Ohio. Located about one mile from Oberlin College and Conservatory, and about a 40 minute drive from downtown Cleveland, Kendal offers a vibrant resident-led lifestyle with access to music, art and lifelong learning.