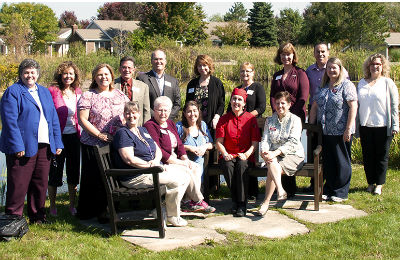 When you learn about the history of an organization, you learn about their core beliefs and values. When you learn about Kendal at Oberlin, you learn one of their guiding principles is service. The name Kendal pays tribute to an English town important in Quaker history and honors the seventeenth-century Kendal Fund, which provided philanthropic support to early Friends who traveled in the ministry.
Our goal is for each individual is to live as full and fulfilling life as possible. We at Kendal at Oberlin dedicate ourselves to service:
Continued Learning
Residents strive for growth through a community of shared experiences. Kendal at Oberlin resident committees organize activities, speakers and many learning events that provide opportunities for shared learning and engagement. We encourage involvement and interaction with the surrounding community and Oberlin College to nurture body, mind and spirit. We don't hire a social director, but instead, are very happy that community members take charge and direct the libraries, interest groups, and activities here at Kendal at Oberlin.
Celebrating Diversity
Truly serving people in a community is embracing what everyone brings to the community and making sure the diversity of all people is fully accepted. Kendal welcomes and embraces all cultures, backgrounds, and religious beliefs to ensure they create and support an all-inclusive environment. We welcome diversity among our community members, board, staff and volunteers. Instead of turning our heads and ignoring differences, we celebrate them through dialogue, actions and social activities.
Caring for Physical Health
Kendal seeks to think proactively for wellness and health. We offer a wellness-oriented focus in our community. A range of wellness activities help residents and staff achieve and maintain high levels of health and well-being. We strive for quality health care for the whole individual rather than addressing only pressing problems and concerns.
Environmental Stewardship
We embrace responsibility for the appropriate use and conservation of the earth's resources. We acknowledge that our influence reaches far beyond the walls of our programs. Every effort to use sustainable practices is in line with the Quaker philosophy to "tread ever more lightly upon the Earth." We conference and consult environmental experts when planning new construction, and we incorporate utility systems that conserve energy as much as possible.
Service is at the core of our values and everything we do. Our goal to is to continually improve our systems and enable our community members to be the best they can be as they continue to learn, grow, and develop in the next stage of their maturing life.