Published: December 10, 2019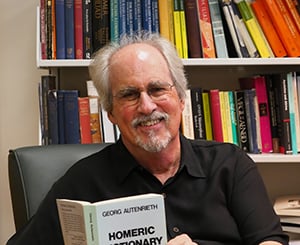 Whether it's online or hard copy, fiction or non-poetry or prose, contemporary or classic, magazine or journal, Kendal residents are readers.
They read in the Kendal library and the Oberlin Public and Oberlin College libraries. They read in their homes and while sitting around the pool or fireplace. They read alone and in book clubs. And like many avid readers, Kendal residents are not shy about sharing names of books they are reading.
So, pull up a chair and hear what they've been up to reading-wise. You might find a good book to add to your winter reading list, or your gift list.
50+ Book Recommendations by the Residents of Kendal at Oberlin
Pauline is reading:
"What the Eye Hears: A History of Tap Dancing" by Brian Seibert
"Musicophilia: Tales of Music and the Brain" by Oliver Sacks
"Born to Rule: Five Reigning Consorts, Granddaughters of Queen Victoria" by Julia Gelardi
"That Churchill Woman" by Stephan Y Barnon
Jane is reading:
"Ibn Fadlan and the Land of Darkness: Arab Travellers in the Far North" by Ibn Fadlan
"The End of Faith" by Sam Harris
"A History of Religious Ideas" by Mircea Eliade
"The Bhagavad Gita" translated by Winthrop Sargeant
"The Words You Should Know" by David Olsen
"12 Rules for Life: An Antidote to Chaos" by Jordan Peterson
Larry is reading:
"Grant" by Ron Chernow
"City of Dreams: The 400-Year Epic History of Immigrant New York" by Tyler Anbinder
"The Silent Musician: Why Conducting Matters" by Mark Wigglesworth
Betsy is reading:
"The Promised Land: The Great Black Migration and How It Changed America" by Nicholas Lemann
"Witnessing Whiteness: The Need to Talk About Race and How To Do It" by Shelly Tochluk
Marjorie is reading:
"The Club" by Leo Damrosch
Poetry by Lynn Powell
Gary is reading:
"Pure: Inside the Evangelical Movement That Shamed a Generation of Young Women and How I Broke Free" by Linda Kay Klein
"The Soul of America: The Battle for Our Better Angels" by Jon Meacham
"Sex Money Murder: A Story of Crack, Blood, and Betrayal" by Jonathan Green
"The Choir Director Wore Out: The Final Chapter (The Liturgical Mysteries #15)" by Mark Schweizer
William is reading:
"Moby Dick" by Herman Melville
"Divine Comedy" by Dante
Lee Child's Reacher Books
Arlene is reading:
Reading all of Toni Morrison books
Books by mystery writers Michael Connelly, Walter Mosley, James Lee Burke
Rich is reading:
"The Accusation: Blood Libel in an American Town" by Edward Berenson
"Secret Prey" by John Sanford
Kay is reading:
"The Dutch House" by Ann Patchett
"Olive, Again" by Elizabeth Strout
"Find Me" by Andre Aciman
Vern is reading:
"Who We Are and How We Got Here: Ancient DNA and the New Science of the Human Past" by David Reich
"The Penguin Jazz Guide: The History of the Music in the 1001 Best Albums" by Brian Morton and Richard Cook
Sandy is reading:
"Pride and Prejudice" by Jane Austen
A.V. is reading:
"The Unknown Odysseus" by Tom Van Nortwick (a Kendal resident)
"Freedom and Criminal Responsibility in American Legal Thought" by Tom Green (a Kendal resident)
"Shakespeare's History Plays" by E.M.W. Tillyard
Nina is reading:
"Best American Essays 2019" by Rebecca Solnit
Ardith is reading:
"The Overstory" by Richard Powers
"Home Cooking: A Writer In The. Kitchen" by Laurie Colwin
Ruth Ann is reading:
"Call It Grace: Finding Meaning in a Fractured World" by Serene Jones
"A Better Man' by Louise Penny
Mary is reading:
"Code Girls: The Untold Story of the American Women Code Breakers of World War II" by Liza Mundy
"The Elephant Whisperer" by Lawrence Anthony
Jim is reading:
"Pioneers" by David McCullough
"Little Fires Everywhere" by Celeste Ng
"Troublesome Young Men" by Lynne Olson
Betsy is reading:
"My Name is Lucy Barton" by Elizabeth Strout
Grace is reading:
Agatha Christie mysteries
"Blowout" by Rachel Maddow
Katie is reading:
"The Twenty-Seventh City" by Jonathan Franzen
Diane is reading:
"Inspired: Slaying Giants, Walking on Water, and Loving the Bible Again" by Rachel Held Evans
Carl Hiaasen books
More Book Lover Favorites & Gift Ideas
Looking for wise, funny, romantic and inspiring books featuring older adults, real and fictional? Look no further. Get the most captivating books about older adults in this Kendal at Oberlin blog article:
Captivating Books About Older Adults
Readers today have lots of memoirs to choose from, including ones written by people you probably don't know. Here are 6 good picks published in 2018:
Remarkable Memoirs Published in 2018
Don't miss out on these must-reads, which include biographies about Leonard Bernstein and Paul Simon and lots more:
Must-Read Books Published in 2018
Are you a reader who would enjoy reading to children? Learn how to get involved in intergenerational reading programs offered at Kendal by downloading our free guide.