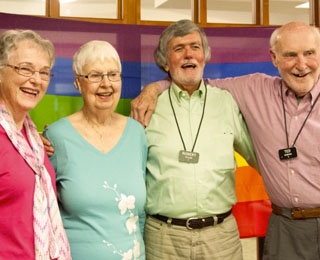 The next time you attend a concert or visit a grocery store, take a minute to look around and see all the ways people are different.
Gender and skin color are the most obvious differences, but what about the woman getting around in a motorized scooter or the man dressed in tattered jeans? You're likely to see couples, both same sex and opposite sex, and people of all ages wearing T-shirts, jewelry, tattoos and the like espousing a certain lifestyle or political view.
Understanding and embracing all diversity is one of the founding cornerstones of Kendal at Oberlin, a life plan community that opened nearly 25 years ago.
---
Choose the best retirement community for you!
---
Both staff and residents work together a common goal, says Toni Merleno, director of Human Resources and chair of the Diversity Awareness Committee: "At Kendal, I must accept everyone; however, I do not have to agree with everyone."
Kendal at Oberlin and other affiliates in The Kendal System are founded on Quaker values and principles. Kendal at Oberlin altered SPICES, an acronym of the Quaker beliefs, to SPLICES so it includes "love:"
Simplicity
Peace
Love
Integrity
Community
Equality
Stewardship
Not Your Typical Diversity Committee
The Diversity Awareness Committee, comprised of residents and staff, sponsors a couple of events every year. "We're not interested in celebrating Spanish Day with tacos and other fluff. Our purpose is to educate," Toni says.
In August, Kendal commemorated the 70th anniversary of the founding of India and Pakistan by showing the epic 1982 movie "Gandhi," followed by a discussion led by Lal Arora, a resident who is Indian. The committee also put together an educational display, and dining services served some Indian dishes.
Last year, the committee held an anti-bullying forum. They used skits to demonstrate the many ways people can be rude and hurtful to others and demonstrated constructive ways to respond.
"The program was controversial because some people feel there is no bullying here," says Toni, adding, "We have wonderful residents and staff here, but this is the real world like any other place."
One way Kendal respects different political viewpoints is through a public bulletin board. Residents can post news articles and cartoons and must include their name, campus address and date.
Kendal is located in a college town known for its diversity and support of progressive causes and social justice. Founded in 1833, Oberlin College's earliest graduates included women and black people. Fast forward to 2017, when Oberlin City Council unanimously voted to change the second Monday in October from Columbus Day to Indigenous Peoples Day in recognition of Native American roots.
Here is just a sampling of how Kendal promotes diversity.
Young and Old Connect on Many Levels
Intergenerational ties are strong in both the city and retirement community. Oberlin was named one of the top five intergenerational communities in the nation by Generations United and the MetLife Foundation. Kendal's intergenerational activities were designated a "Program of Distinction" by Generations United, with emphasis on bringing generations together.
With an Early Learning Center located on campus, residents and children interact daily. Many residents volunteer their time reading, cooking and going on field trips with the pre-schoolers.
In addition, many informal and unplanned activities happen daily.
During walks and other outings to the swimming pool and elsewhere, children and residents stop to chat and share a greeting. Postcards are made and delivered to new residents, and artwork dropped off to the children's favorite "grandfriends."
Last year, when a resident turned 100, the children stopped at his apartment to sing happy birthday.
Many high school students work in the dining room, and they often form friendships with residents.
Through Oberlin College classroom projects, mentoring programs and countless informal connections, college students and residents regularly interact. They share meals, visit the Allen Memorial Art Museum and attend programs at the college's Conservatory of Music and elsewhere.
Benefits for older adults who regularly interact with the young include:
Improved physical health: They burn more calories, experience fewer falls and are less reliant on canes.
Improved mental health: They perform better on memory tests, and those with dementia experience more positive effects than in non-intergenerational activities.
Improved emotional health: Feelings of isolation and depression decrease and self-worth and happiness increases.
And studies show that communities are more vibrant and have a deeper appreciation for cultural heritage and traditions.
Gay Pride Isn't Just an Annual Event at Kendal
Kendal fosters a welcoming environment for residents regardless of sexual orientation.
When Nancy Lombardi and Ann Francis were looking for a place to retire, finding a community supportive of gay rights was "very high" on their list. They moved to Kendal in May 2015 and have found both the retirement community and city of Oberlin "open and accepting." The couple sometimes attends a monthly Queer Happy Hour in an Oberlin restaurant, and they support the Lorain County LGBTQ+Task Force.
After the June 26, 2015, landmark decision by the U.S. Supreme Court affirming marriage equality for all, the entire community celebrated with Kendal's same-sex couples. A photograph was taken of two gay couples and later used in Kendal's publicity materials.
Religious Affiliations Are Diverse, Too
Spend a day at Kendal at Oberlin and you'll notice some things that are different from most other continuing care retirement communities.
Residents are engaged in decision-making and governance of the community;
Committees strive to make decisions by consensus;
Staff and residents are addressed by first name without titles;
Meetings begin, and sometimes end, with a moment of silence.
These values and practices, and many others, are rooted in Quaker principles.
But residents of all faiths, and no faith, live at Kendal.
Every week, four different religious services are held on campus. In the city of Oberlin, residents will find a wide range of religious organizations and services.
Inclusion Regardless of Abilities
Unlike some retirement communities, residents live and eat together regardless of their physical and mental limitations. Residents in independent living cottages and apartments and assisted living apartments interact daily in countless ways. They may dine together, attend a program in the Heiser Auditorium, swim in the lap or therapy pool or play table tennis together.
Because the Stephens Care Center, which includes assisted living and skilled nursing, is located in the main building, residents routinely walk through the center on their way to meals and other activities. Informal visits and gatherings occur regularly.
This fall, a memory support wing called Jameson House is slated to open. The house is based on the "small house model," designed to create a supportive environment for up to 12 older adults with cognitive impairment while promoting their optimal level of independence.
"The engagement of Jameson House residents with the rest of Kendal and the engagement of the Kendal community with Jameson House will be vital," explains Stacy Terrell, Chief Health Services Officer. "Community interconnectedness and maintaining relationships throughout the continuum of care have always been a primary objective of our community's design."
Diversity Supports Lifelong Learning
Promoting diversity in all its many forms helps foster lifelong learning, as people learn new ways to tackle old problems and challenge deep-rooted, often biased beliefs. And diversity can make us smarter, according to an article in Scientific America, originally published in 2014 and reissued this year because of the immigration debate.
Writes Katherine W. Phillips, Paul Calello Professor of Leadership and Ethics and senior vice dean at Columbia Business School:
"The fact is that if you want to build teams or organizations capable of innovating, you need diversity. Diversity enhances creativity. It encourages the search for novel information and perspectives, leading to better decision making and problem solving. Diversity can improve the bottom line of companies and lead to unfettered discoveries and breakthrough innovations. Even simply being exposed to diversity can change the way you think. This is not just wishful thinking: it is the conclusion I draw from decades of research from organizational scientists, psychologists, sociologists, economists and demographers."
Kendal Is Unique
You can find the atmosphere of acceptance, collaboration, and openness at Kendal at Oberlin nowhere else. We'll happily send you a brochure, but the in-person contact with residents and staff can't be beat. Schedule a tour by contacting us online or calling 800-548-9469 or 440-775-0094.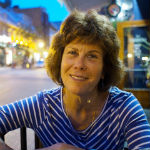 Molly Kavanaugh frequently wrote about Kendal at Oberlin for the Cleveland Plain Dealer, where she was a reporter for 16 years.